All You Need to Know About a Nose Job
A nose job, also called rhinoplasty, is a surgery that a plastic surgeon performs to alter the way your nose looks and functions.
It is the most common facial plastic surgery procedure, with up to 220,000 rhinoplasties performed each year in the US, as reported by the American Society of Plastic Surgeons. A nose job can give you a more balanced appearance by improving the shape and size of your nose. However, apart from the cosmetic benefits, the procedure has developed to include other useful applications, such as help with breathing problems that disturb your sleep or the ability to exercise, and improved nasal function in case of a traumatic injury.
What's the Goal of Rhinoplasty?
Dr. J. Timothy, an experienced artist-surgeon, utilizes the art and science of rhinoplasty to revise your nose to your desired appearance and functionality. He uses his expertise to provide you long-lasting and effective results and designs the procedure according to your specific skin type and facial structure.
Some Fast Facts
If indicated, plastic surgeons encourage cosmetic rhinoplasties once the facial bones and cartilage have completely formed. However, teenagers can get a nose job done provided that they have parental consent, fully understand the procedure and are least 15-16 (girls) or 17-18 (boys) years old. Also, teenagers may be surgical candidates for a rhinoplasty if their nose has suffered severe trauma.
Patients born with facial defects such as lip and cleft palate can undergo reconstructive nasal surgery during infancy.
If a rhinoplasty is combined with a septoplasty (a procedure for the straightening of the septum), it can not only enhance your self-confidence, but also improve breathing.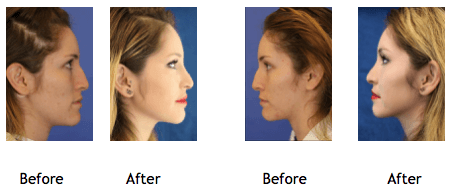 The Procedure
Before the procedure, an experienced plastic surgeon, like Dr. J. Timothy, makes sure that you completely understand the procedure along with its benefits and risks. A rhinoplasty is a safe procedure, but only an expert plastic surgeon should perform it. Dr. Katzen spent a full year at the prestigious New York University Medical Center completing a cranio-facial fellowship. That means he spent a whole year focusing and correcting congenital, traumatic, and cosmetic craniofacial abnormalities including the nose.
Before your nose job, Dr. Katzen will help you visualize your results using 3D imaging technology. Dr. Katzen can also print models of the nose to show you how your nose will look before the surgery, along with the expected look after the surgery. While this is mainly an educational tool, Dr. Katzen cannot guarantee the results on the screen. However, this exercise does a great job of letting you discuss the goals of the nose job clearly with Dr. Katzen, allowing you to be more comfortable with the procedure.
If cosmetic or look or your nose is one of the goals of the rhinoplasty procedure, then it may involve the reshaping of the nose tip, removal of the nasal hump, increasing or decreasing the overall size and projection of the nose, and the resizing or reshaping of the nostrils.
In general, the complete rhinoplasty procedure may take between 1.5 to 3 hours. The rhinoplasty is an outpatient procedure. There are two types of rhinoplasty:
Closed – an incision is made inside the nostrils. This means the incision is hidden. It has a limited ability to introduce changes.
Open – an incision made across the tissue that is between the nostrils. This incision heals very well and is barely visible when completely healed.
Sometimes, additional cartilage may be needed to augment your nose. In this case, it may be taken from your nasal septum. In revision or secondary rhinoplasty (that is performed to correct the deformities created by a previous procedure), cartilage may be obtained from an ear or rib. It is clear why a revision rhinoplasty should only be performed by an experienced and highly-skilled plastic surgeon like Dr. Katzen. An expert is crucial because it is a difficult procedure to perform since it involves cartilage harvesting, conforming and has the potential for scarring.
There is also a type of rhinoplasty that is nonsurgical. It is called liquid rhinoplasty and involves a series of office-based procedures that are performed while the patient is awake. During this type of rhinoplasty, injectable hyaluronic acid fillers are utilized to alter the size and shape of the nose.
What is the Recovery Like?
After the surgery, you may experience mild to moderate discomfort. You can easily control it with medication. You may return to work or your social life within a couple of weeks. However, in the initial days, you may have some under-eye bruising and swelling. You can expect to be advised to wear nasal splints both on the outside and the inside of your nose. This splint is needed for around a week after the rhinoplasty procedure so that your nasal cartilage and bones are protected. You should also stay away from strenuous activity such as swimming or jogging for about two to three weeks. Glasses should be avoided for four to five weeks.
Let an Expert Handle It
Your nose is a prominent part of your face. Its complex structure is created by delicate bones and cartilage. Even a small change in its structure can affect the whole nose. A nose job requires expertise to give you a natural, beautiful, and functional outcome.
If you are considering a nose job, you should consult a plastic surgeon like Dr. J. Timothy Katzen, who routinely performs rhinoplasties. plastic surgeon Dr. Timothy Katzen is one of the most well-known and well-respected surgeons in both Las Vegas, NV, and Beverly Hills, CA areas. His vast experience in aesthetic and reconstructive surgery means that he is an excellent option for you if you would like to get a nose job done. Read more about him here or schedule a consultation today!