Blepharoplasty Cost: Different Considerations
When it comes to using cosmetic surgical procedures to improve your appearance, you may quickly dismiss them as simply being too expensive. While it is true that there is some sort of cost involved, Dr. Katzen and his team are here to reassure you that it is worth it. We invite you to learn more about the cost of a blepharoplasty and the different things that you should consider as you determine if a blepharoplasty is the right plastic surgery procedure for you.
Something that we have seen many times is that when a person has something about their appearance that they do not like, it affects them in many ways. This anatomic concern affects their work, it affects their personal relationships, and it affects the way they feel about themselves. When a person decides to undergo a blepharoplasty procedure, they very quickly find that the money spent was more than worth it. It is common for individuals who have a lot of excess skin around their eyes to be looked at in a negative light. Individuals with "heavy upper eyelids" often look tired, worn out, and exhausted. After a blepharoplasty, they look refreshed and ready to take on life. Many would say that spending money to improve their appearance is definitely worth the improved relationships they will experience after eyelid surgery.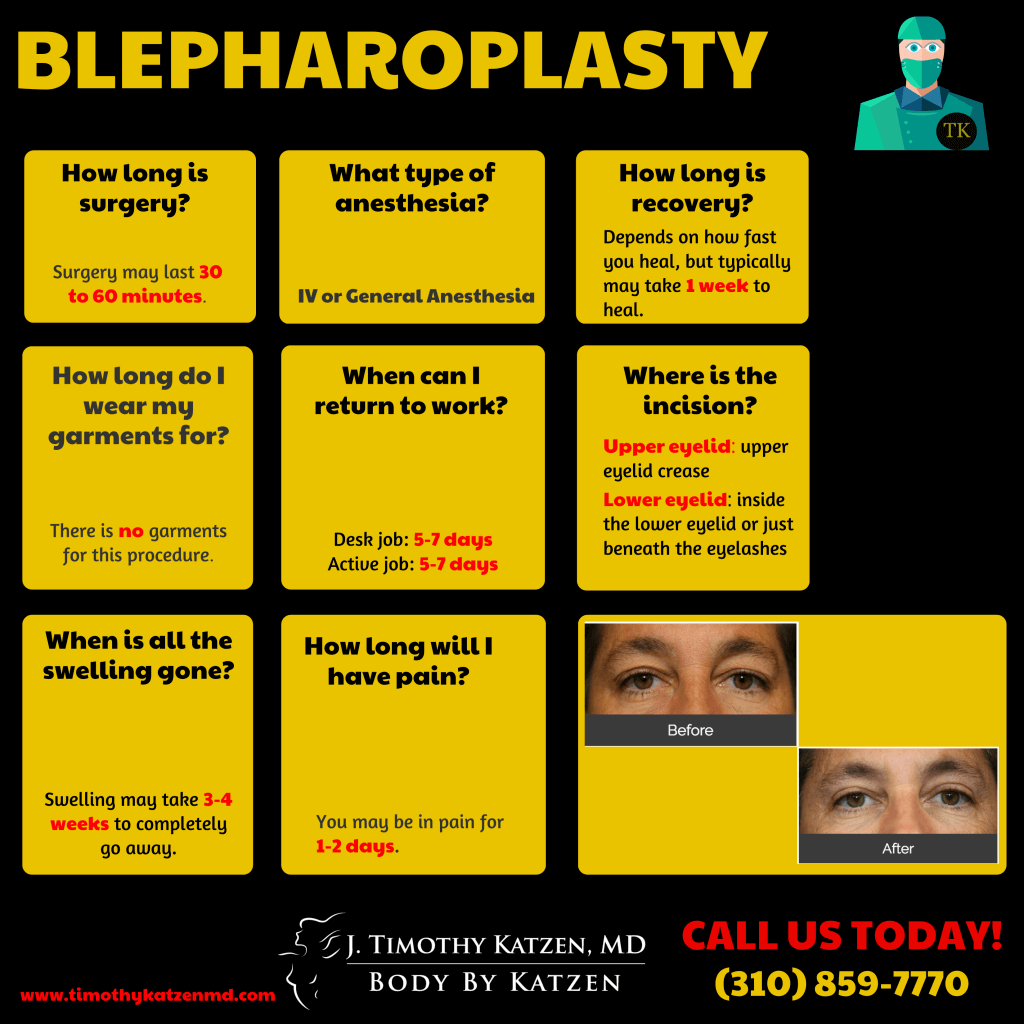 Why Get a Blepharoplasty? When discussing a blepharoplasty, we are talking about cosmetic eyelid surgery. This is a plastic surgery procedure that is designed to improve the way your lower and upper eyelids look. A blepharoplasty can be performed just on both upper and lower eyelids, or both can be treated during the same surgical procedure. When the blepharoplasty is done on the upper eyelids, upper eyelid skin and fat will be removed, so you will no longer have skin hanging over your eyes. When a blepharoplasty is done on the lower eyelids, it helps to get rid of fat, tissue, and skin that is hanging under your eyes and causing you to look tired. Another reason my patients undergo eyelid surgery is that it makes their eyes appear younger and more alert. Besides improving your facial features a blepharoplasty can also improve your vision. A blepharoplasty can improve your vision by removing excess skin and fat that may physically obstruct your visual fields. The blepharoplasty procedure can also repair droopy eyes. The excess skin and fat may cause sagging eyebrows, droopy upper lids, and bags under your eyes. So if having trouble seeing, bags under your eyes, excess skin and fat, and unwanted droopy eyes, having a blepharoplasty procedure would be ideal procedure to consider. In order to qualify for a blepharoplasty, you need to be in good physical and emotional health. While you are likely to experience benefits in your professional and personal life, you need to make sure that this is something that you genuinely want to do for yourself. You want to improve your self-confidence and the way you feel about yourself. At times, a blepharoplasty may be performed for medical reasons. If having excess skin on your upper eyelids is affecting your vision, this may be used as a medical treatment to improve your field of vision. In this case, you may find that your medical insurance company will cover the cost of surgery. Of course, you will want to do as much research as you can about blepharoplasty costs and your personal insurance plan. Preparing for and Meeting Dr. Katzen On the day of your plastic surgery consultation, Beverly Hills, celebrity plastic surgeon, Dr. Katzen will physically examine you and discuss every option available to you. Dr. Katzen will complete a thorough medical history. You and Dr. Katzen will discuss any previous eye conditions, like dry eyes, glaucoma, circulatory problems, thyroid problems and any allergies. After discussing and evaluating your medical history, you and Dr. Katzen will discuss your expectations. An honest discussion will help garner a satisfactory outcome. Dr. Katzen will then suggest techniques in which how we will perform the blepharoplasty surgery. Prepping for Surgery As your blepharoplasty surgery day approaches, Dr. Katzen will need tests done before the surgery. Dr. Katzen will give you a list of medications and vitamins you should stop taking and doing before the surgery. For starters, you will need to stop smoking, the nicotine in cigarettes and hookah can significantly reduce your ability to heal after surgery. Some medication like warfarin, ibuprofen, naproxen sodium, aspirin, naproxen, and other medication or herbal supplement, are associated with increased bleeding. Only take medications approved by Dr. Katzen. Blepharoplasty surgery removes the excess skin and fat of the upper eyelids. Plan for someone to take care of you since your eyes would be mostly closed for a few days while you heal. Surgery Day The day has finally come. You will arrive at an outpatient center for your procedure. Dr. Katzen will review with you what was discussed during your pre-op visit. Dr. Katzen will discuss the blepharoplasty technique he will use for the surgery. Dr. Katzen's anesthesiologist will then consult with you and tell you everything you need to know about being under IV or general anesthesia. Keep in mind, Dr. Katzen only works with experienced, anesthesiologists. Once you are taken to the operating room, Dr. Katzen will begin the blepharoplasty procedure. If you are getting both eyelids corrected, Dr. Katzen will start first with the eyelids. Then, Dr. Katzen will make his way to the lower eyelid. The blepharoplasty procedure lasts about 30 to 60 minutes. On the upper eyelid, Dr. Katzen makes the incision along the fold of the eyelid. He does this to best hide the scar. On the lower eyelid, Dr. Katzen makes the incision just below the lashes in the natural crease or inside the lower lid. If the reason you are having a blepharoplasty is to correct any visual obstruction, Dr. Katzen may make an incision to repair the muscles of the eyelid. Once the blepharoplasty procedure is completed, Dr. Katzen will close up your incisions and patch up the incisions. After the Procedure After your blepharoplasty surgery, you will be monitored in the recovery room for any complications. Once the anesthesia has worn off, you are able to leave. It is best to have someone take you home after the blepharoplasty surgery, as you may experience after-effects from anesthesia. You may experience blurred vision, watery eyes, light sensitivity, double vision, puffy, numb eyelids, swelling, bruising, and some pain. Dr. Katzen will suggest you use ice packs to reduce swelling. Among other suggestions, Dr. Katzen will also advise you gently clean your eyelids and use prescribed eye drops or ointments. Also, avoid strenuous activities for at least a week while your eyelids heal. The healing process varies from patient to patient. Typically, recovery takes about one week. Depending on your job, if you have a sitting or active job, you can return to work in five to seven days. Most of the swelling should be gone after three to four weeks. If you are thinking about exercising, you may return exercising one week after your blepharoplasty surgery. If you have any more questions regarding blepharoplasty surgery or plastic surgery in general, please call my office at (310) 859-7770.