Can Skin Removal Surgery Extend Your Life?
Skin removal plastic surgery is an option for people following immense weight loss. Dr. Katzen performs many skin removal surgeries for patients who have lost weight through diet and exercise or after weight loss surgery.
When patients lose a lot of weight rapidly, they may be left with excess, sagging skin. Often, sagging skin makes patients uncomfortable and unable to enjoy the benefits of weight loss.
Skin removal surgery offers many advantages, including restoring a patient's quality of life. For many patients, it may even extend their lives.
Benefits of Skin Removal Surgery
Weight gain causes skin and body tissue to stretch. Usually, the skin does not always shrink back to its original condition before weight gain.
In addition to losing even more weight, skin removal surgery offers many benefits once a patient's weight is stable.
Pain Relief
Weight loss leads to pain relief for many patients suffering from back, neck, hip, knee, and ankle pain. However, the body also suffers from stress and strain from hanging skin. The weight of the hanging skin can cause pain. Also, the thin, fragile skin can tear, causing extreme pain.
After weight loss surgery, many bariatric patients carry excess abdominal skin called the pannus. A pannus may cause low back and neck pain over time. Skin removal surgery offers relief for most patients.
Better Mobility
Mobility improves with weight loss. However, carrying excess skin can impede mobility and not allow patients to experience the full benefits of a slimmer physique.
Removing sagging arm, leg, and abdominal skin restores mobility and a patient's ability to participate in their day-to-day lives actively.
Improved Hygiene
Often, maintaining good hygiene is difficult for morbidly obese individuals. However, hygiene issues may continue even after weight loss. Patients may find it challenging to keep their skin creases clean.
Frequently, Dr. Katzen talks with patients concerned about body odor and rashes due to bacterial and fungal infections following weight loss. In addition, skin infections are a significant issue for many patients and are the main reason they seek skin removal surgery.
Enhanced Self-Confidence
Many patients interested in skin removal surgery want to improve their self-confidence and self-esteem. Losing weight brought them closer to their goals; however, the excess skin they carry makes it impossible to achieve their desired look.
Skin removal surgery can offer hope. Once the hanging skin is removed, most patients feel more confident and comfortable in their bodies.
Types of Skin Removal Surgery Procedures
Weight loss affects each patient differently. Skin removal surgery is often the final step that completes a patient's transformation following weight loss. During your personal consultation, Dr. Katzen will discuss procedures to address your unique excess skin issues.
There are several skin removal procedures patients commonly request following weight loss.
After Weight Loss Surgery
Patients with loose skin in many areas may be excellent candidates for one of Dr. Katzen's After Weight Loss Surgery procedures. This collection of surgeries can improve the appearance of the arms, thighs, abdomen, buttocks, breasts, neck, and face.
If After Weight Loss Surgery interests you, Dr. Katzen will discuss his recommendations. Dr. Katzen will design a personalized treatment plan according to your unique needs.
Brazilian Butt Lift (Autologous Fat Transfer)
Rapid, extreme weight loss may leave patients with less defined rear ends. This rapid weight loss results in a deflated buttock. Patients with hanging skin in the buttocks should benefit from a Brazilian butt lift (BBL).
A BBL involves removing excess fat from other body areas and transferring the harvested fat to the buttocks. If you do not have enough body fat to transfer, Dr. Katzen may recommend a surgical buttock lift or buttock implants.
Thighplasty
Both male and female patients struggle with loose thigh skin following extreme weight loss. A thighplasty, or thigh lift , involves removing excess skin on the inside or outside of the thighs. Dr. Katzen can also remove unwanted thigh fat to enhance the final result.
A thighplasty results in smoother skin and long-lasting results provided the patient does not gain back weight. Dr. Katzen will discuss his recommendations if he believes you would benefit from a thighplasty.
Tummy Tuck (Abdominoplasty)
Many patients experience sagging abdominal skin following weight loss, aging, and pregnancy. Once stretched, stomach skin does not always mold back to the body. Abdominal muscles may also be impacted as a person ages and gains weight.
A tummy tuck involves removing excess skin and fat from the abdomen. Dr. Katzen will also tighten the stomach muscles during the tummy tuck procedure. Mini and extended tummy tucks are available. During your consultation, Dr. Katzen will offer you his recommendation.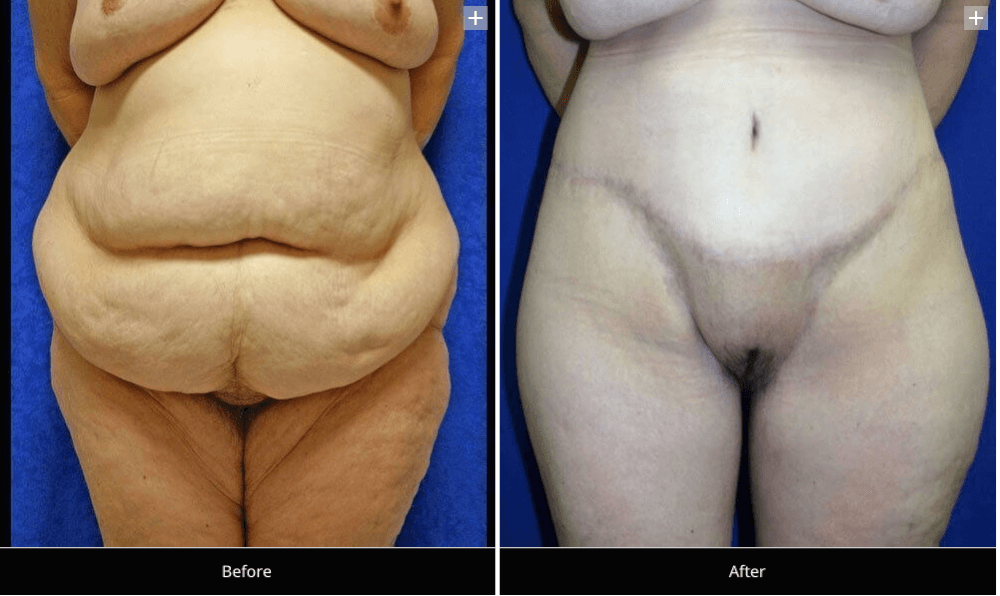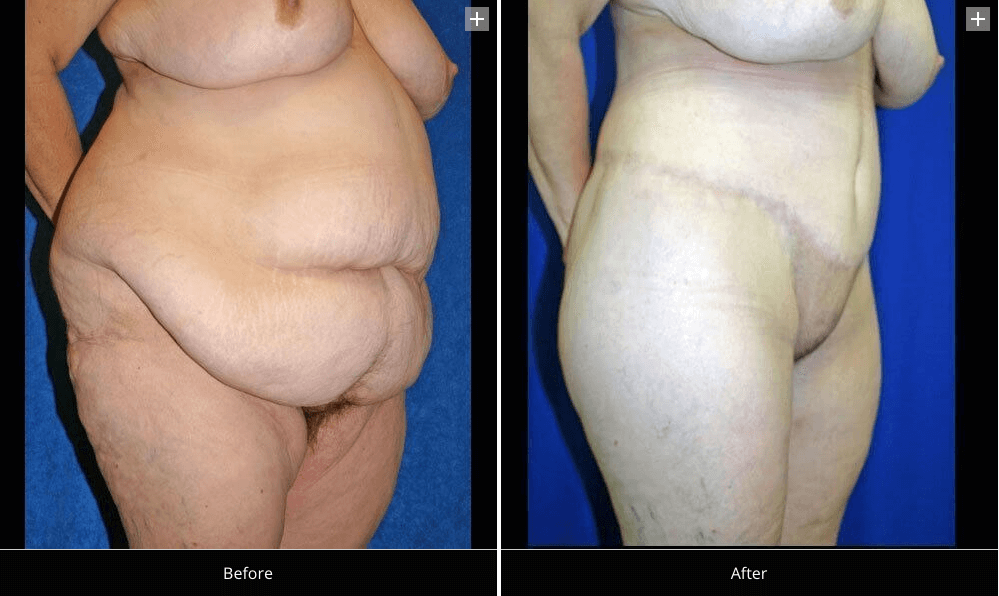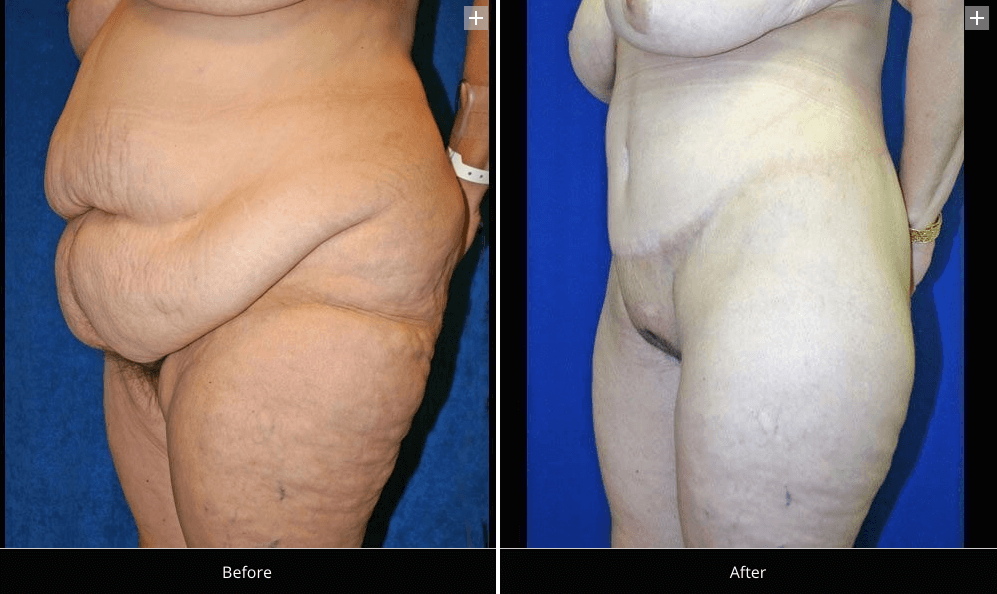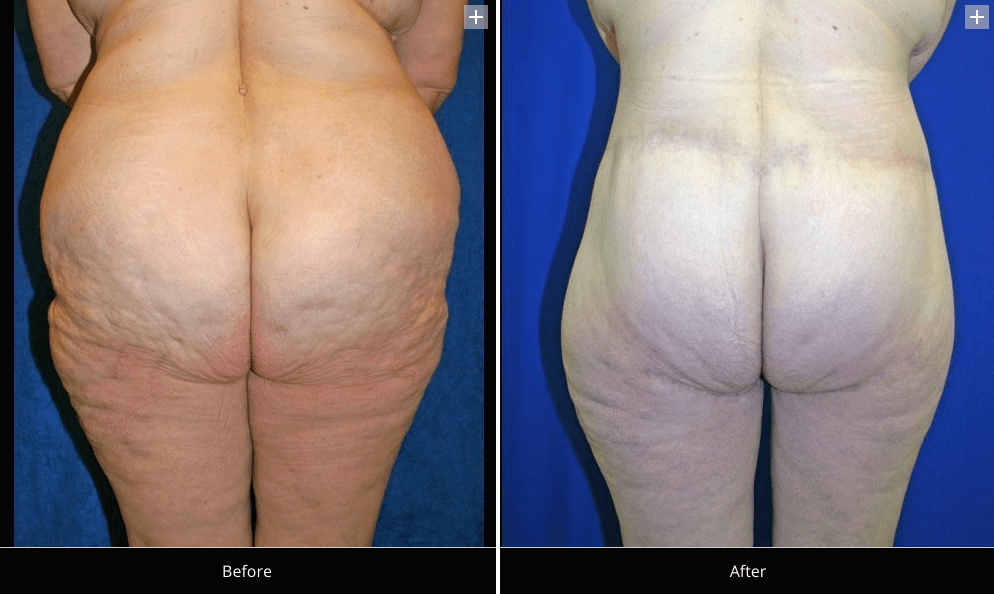 Breast Lift (Mastopexy)
Often, women lose breast size, shape, and firmness after weight loss, breastfeeding, or natural aging. A breast lift is a plastic surgery procedure that removes excess breast skin while lifting and reshaping the breasts and tightening the surrounding breast skin. In addition, the areola may need to be reshaped, repositioned, and reduced.
During your initial consultation, Dr. Katzen will discuss your ideal breast size and shape and design a treatment plan to achieve your goals.
Arm Lift (Brachioplasty)
An arm lift is a plastic surgery that removes excess arm skin and fat. Many weight loss or bariatric patients have "bat wings" on the undersides of their arms. An upper arm lift will permanently remove hanging arm skin and fat.
In addition, usually, Dr. Katzen will perform liposuction to remove unwanted arm fat during your arm lift surgery. He will discuss his recommendations during your consultation.
Neck Lift (Platsymaplasty)
Loose neck skin is common in patients who have rapidly lost weight. A "double chin" or "turkey neck" makes patients look older and feel self-conscious.
A neck lift removes sagging neck skin and fat. During a neck lift, Dr. Katzen tightens the remaining neck skin for a smoother, softer neckline. If needed, liposuction may also be used to remove excess neck fat.
Also, during a neck lift, Dr. Katzen will suture the platysma muscle - a fan-shaped muscle in the neck. Plicating this neck muscle leads to a more chiseled neckline.
Facelift (Rhytidectomy)
Patients undergoing extreme weight loss may notice loose facial skin that robs them of a more youthful appearance. A facelift targets areas of the face that need skin removal and tightening for a smoother, tauter, and especially, younger look.
Dr. Katzen will outline a treatment plan to address problem areas on your face and discuss your options.
Schedule Your Consultation for Skin Removal Surgery Today
Skin removal surgery may extend your life by lowering your risk of infection and resolving back and neck issues that cause pain. In addition, skin removal surgery offers many other benefits designed to improve your quality of life.
Dr. Katzen is scheduling initial consultations with patients interested in skin removal procedures. You may choose an in-person appointment at one of his offices in Beverly Hills, CA, Las Vegas, NV, or Dubai UAE, or a virtual appointment. Dr. Katzen meets virtually with patients via Skype, WhatsApp, FaceTime, and Zoom.
To schedule your appointment, please call (310) 859-7770.