Different Body Contouring Surgeries After Massive Weight Loss
"Body lift surgery can deliver your desired sculpted body. However, the body lift requires focus, aesthetic sense and mastery to reshape and lift loose body parts!"
Do you want to achieve a "normal" body after weight loss?
Do you want to finally rid yourself of excess sagging skin and fat from your buttocks, thighs, abdomen, chest, and arms?
Do you want to recontour your lower and upper body?
Do you want to improve your body image and self-confidence?
Do you want to finish your weight loss journey?
Do you want to show off the results of all your hard work to lose weight?
The points above highlight some of the reasons to undergo body lift procedures. Dr. J. Timothy Katzen, M.D., Beverly Hills, CA, Las Vegas, NV, and Dubai, UAE has worldwide recognition for the trademark body lift techniques.
Dr. Katzen is highly committed to the aesthetic results of body contouring surgery. Dr. Katzen gives thorough thought and time to evaluate every patient individually. Therefore, patients from all over the world travel to Beverly Hills, CA, Las Vegas, NV, and Dubai, UAE to have plastic surgeries, especially body contouring surgery, with Dr. Katzen.
Case: "A patient visited Dr. Timothy Katzen's office in Beverly Hills, CA. He had reached a maximum weight of 450 pounds. He lost 275 lbs. After his massive weight loss, he had excess skin and fat in his abdomen, chest, and arms. He underwent two-staged surgeries. His first surgery was a 360 circumferential, lower body lift. The lower body lift included a tummy tuck (abdominoplasty), pubic lift/reduction, hip lift/reduction, and buttock lift/reduction. This procedure took 6 hours to complete. Three weeks later, he underwent an arm lift (brachioplasty), male breast reduction, and vertical torsoplasty. This procedure took 5 1/2 hours to complete. Both the procedures were performed under general anesthesia. A total of 20 pounds of excess skin and fat was permanently removed."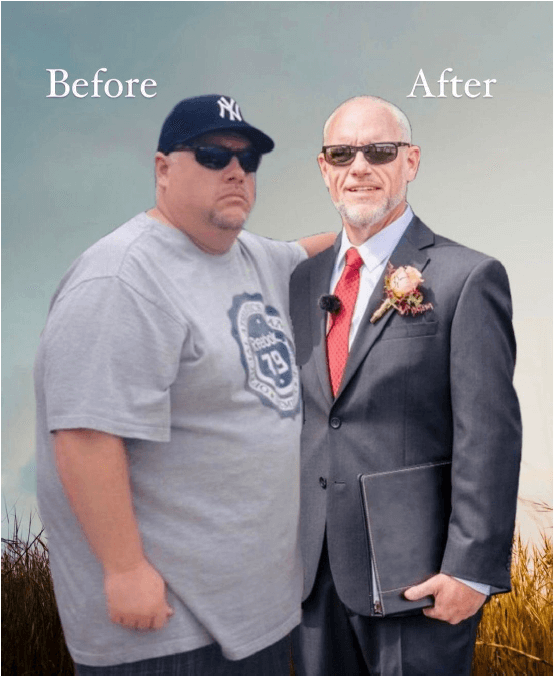 What is the Goal of Body Contouring/body lift Surgery after Weight loss?
Reconstructive body-contouring surgery aims to achieve a desired sculpted body figure with a toned, smooth, flat abdomen, lifted buttocks, chest, arm, thighs, and greatly improved body profile. Since these are lengthy procedures with complex incision lines, these surgeries are usually staged.
What is a 360 circumferential body lift surgery?
The 360 circumferential lower body lift surgery is a body contouring procedure that eliminates excess skin and fat of the lower torso. As a result, the lower body lift offers you a sculpted abdomen, buttocks, thighs, flanks, and lower back. In addition, the lower body lift can include the thigh lift/reduction. The upper body lift procedures can include arm reduction (brachioplasty), breast lift (mastopexy), breast reduction, and torsoplasty procedures.
Why is body contouring/body lift surgery after Weight-loss required?
The most common effect after weight loss surgery is sagging skin. The only way to remove sagging skin is surgical removal.
Loose hanging skin can make selecting and wearing stylish outfits difficult. Sagging skin can make buying clothes "off the rack" almost impossible.
If you want to show off your weight-loss efforts and flaunt your hourglass figure or washboard abs, you will probably need surgery to remove excess skin.
You may have an aesthetic desire to improve the appearance of your skin and tissue after significant weight loss.
Body contouring surgery can target most body areas, including arms, back, belly, flanks, buttocks, neck, chin, and thighs.
Surgeries that are included under Body lift/Body Contouring:
As the case described above, the patient received a 360 circumferential lower body lift surgery with prime focus on the buttocks, tummy, hips, and outer thighs. Later, the patient returned for an upper body lift to include arm, breast, chest, and torso reduction. Therefore, Dr. Timothy Katzen performed a series of successive sessions that focused on specific body parts.
Abdominoplasty (Tummy tuck): The tummy tuck is the most common procedure for massive weight loss patients. People who have lost a lot of weight, especially after weight loss procedure/bariatric surgery, undergo abdominoplasty to remove sagging skin..An abdominoplasty tightens loose, sagging skin in the abdomen, tightens the rectus muscle, recreates the umbilicus, and flattens the upper pubic region. People who receive an abdominoplasty often opt to tighten the skin in their thighs at the same time
Buttock lift/reduction: Buttock reduction surgery can be performed independently or as a part of lower body lift. The buttock lift is designed to reduce the size and shape of the buttock and offer you a contoured butt profile. After discussing your cosmetic concerns and goal with Dr. Timothy Katzen, a surgical plan will be created.
Hip lift/reduction: After weight loss, the hips can often fall or sag, which is why the hips are lifted during a hip lift by removing excess hip skin and fat along the belt line.
Hip Augmentation: Hip dips surgery is a fat redistribution surgery. During hip fat transfer, fat is suctioned from one area and then, injected into the hip or trochanter area.
Arm lift/reduction: An arm lift surgery eliminates excess skin and reshapes the upper part of the arm. In addition, arm liposuction may be required to remove excess arm fat.
Male Breast Reduction: Excess male breast fat and glandular tissue are removed to create a flatter, firmer, and more masculine contour to the chest. There are various techniques including, liposuction, crescent, lollipop, and anchor reduction pattern techniques.
Vertical or horizontal torsoplasty: Back lipectomy/reduction or torsoplasty is a plastic surgery procedure that removes excess rolls of back skin and fat. A back lipectomy is often performed since there can be excess back fat after weight loss.
Conclusion:
Overall, body lift surgery is an individualized reconstructive plastic surgery. Body contouring surgeries are recommended for patients who have undergone massive weight loss. Body contouring involves various plastic surgery procedures to achieve the desired contour goal. An introductory consultation with Dr. Katzen will help to define the best option according to your anatomical status, surgical goal, and dream body figure.
Call TODAY to schedule a consultation. For your convenience, Dr. Katzen has offices in Beverly Hills, CA, Las Vegas, NV, and Dubai, UAE. Physical or virtual consultations can be arranged. Virtual consultation options include FaceTime, Zoom, Skype, and WhatsApp. Call TODAY at (310) 859-7770 or email [email protected] to schedule your consultation and achieve your dream body.