The Hazards of Silicone Injections Into the Penis with a Case Report
Unfortunately, silicone injections into the penis have become an increasingly popular elective procedure because they promise to provide a thicker, longer, and larger penis. However, silicone injections to the penis pose serious risks. This article outlines the risks and hazards of injections and the surgical treatments required to remove penile silicone.
The best way to achieve a desired larger penis is to consider a safe, FDA-approved method such as penile extender devices or approved surgical procedures. While silicone injections into the penis can provide a thicker penis, the potential life-long dangers far outweigh any benefits. It is important to remember that silicone injections carry severe risks and should NOT be considered an option. In addition, NO ONE (INCLUDING DOCTORS) SHOULD INJECT SILICONE, ESPECIALLY INTO THE PENIS.
WHO PERFORMS SILICONE INJECTIONS TO THE PENIS?
Even if you are a "certified injector," silicone injections are NOT recommended, especially for the penis. Unfortunately, some unscrupulous dermatologists and plastic surgeons may provide this procedure. However, silicone injections to the penis are NOT approved by the FDA and can lead to severe complications. Usually, injectors are not medical doctors, nurses, or aestheticians. Silicone injectors, or pumpers, are unethical people looking to make money from injecting an illegal product and the expense of your health. Also, most people injecting silicone are unaware of the proper sterile injection technique. Furthermore, they are unaware of the anatomy, risks, and associated future complications. PLEASE DO NOT FALL VICTIM TO THEIR PROMISES.
WHERE ARE MOST PENIS SILICONE INJECTIONS PERFORMED?
Most penis silicone injections are performed in non-medical settings. For example, many patients have penis silicone injections in non-sterile hotel rooms, basements, or homes. Sometimes, penis silicone injections are performed in an office setting or a "medical" spa.
HOW ARE SILICONE INJECTIONS TO THE PENIS PERFORMED?
Silicone injections into the penis are performed by injecting a small amount of silicone under the skin along the shaft of the penis or into the corpora cavernosa. The corpora cavernosa are paired structures on each side of the shaft of the penis. Each corpora cavernosa contains a complex circulatory network to allow for erections. Silicone injections are done with or without local anesthesia. Silicone injections to the penis take approximately 15 to 30 minutes to complete. Depending on the goals of the silicone pumper, injectors sometimes inject a "large" amount, ranging from "a few drops" to several mls or ccs. Usually, the penis skin is not sterilized, and unclean needles are used. Also, the injected silicone is not sterile and is injected randomly under the skin. Once the silicone is injected, this is when all the problems begin. Silicone can create lumps, nodules, or granulomas when injected directly into the body without proper sterilization. In turn, these lumps can become infected if bacteria enter through any opening caused by an injection needle. This infection can spread throughout other body parts, causing further complications, including abscesses, sepsis, or blood poisoning. In extreme cases, this could lead to organ failure and even death in some instances.
WHAT IS SILICONE?
Silicone is derived from silicon, which can be found in nature as sand or quartz. It has been used for decades in medical products such as prosthetic devices, breast implants, buttock implants, facial implants, and contact lenses because silicone is durable and non-toxic when prepared adequately for medical use.
WHAT ARE THE RISKS ASSOCIATED WITH SILICONE INJECTIONS TO THE PENIS?
Silicone injections into the penis can cause serious health risks. Complications include but are not limited to
Severe chronic pain

Formation of nodules and lumps

Hardening, calcification, and formation of granulomas

Discoloration of the skin

Allergic reactions

Inflammation

Chronic infection

Ulceration of the skin

Formation of abscesses

Gangrene

Unpredictable or disfigured results

Injury to the nerves and blood vessels

Partial or permanent loss of sensation in the penis

Scarring of the penis

Deformity of the penis

Permanent disfigurement

Difficulty or inability to have an erection and other erectile dysfunctions

Painful erections (priapism)

Inability to have intercourse due to the pain (dyspareunia)

Impotence and infertility

Urinary obstruction

Migration to the scrotum and inguinal nodes

Silicone blocking blood flow which can lead to tissue death (necrosis)

Potentially fatal complications

Blockage of arteries in the lungs (pulmonary embolisms)
These risks and complications are serious, and the potential consequences should be considered before undergoing silicone injections. Unfortunately, most non-certified injectors may not be aware of these sometimes-fatal complications associated with silicone injections into the penis.
DOES THE FDA APPROVE SILICONE INJECTIONS?
The U.S. Food and Drug Administration (FDA) disapproves of using silicone for injections. The FDA does NOT approve silicone injections into the penis for cosmetic or sexual enhancement purposes. The use of silicone injection for cosmetic purposes is also illegal in most countries. Unfortunately, still, many people are injecting silicone. Even though silicone injections are considered illegal and dangerous, many pumpers continue their practice.
WHAT HAPPENS TO SILICONE INJECTORS?
Many silicone injectors have been caught and jailed for their crimes. People like Kimberly Smedley, Nitica Deonte Lee, "Dr." Oneal Ron Morris, Donna Francis, and countless others are serving jail time for their silicone injection crimes. But unfortunately, the trend continues, and many more new silicone pumpers appear daily.
ARE THERE ALTERNATIVES TO SILICONE INJECTIONS IN THE PENIS?
The best way to achieve a thicker and longer penis is with FDA-approved methods such as penile extender devices or approved surgical procedures. Silicone injections into the penis should not be an option. It is important to remember that silicone injections carry serious risks and are NEVER indicated.
ARE THERE PSYCHIATRIC ISSUES WITH SILICONE INJECTIONS INTO THE PENIS?
In addition to these physical side effects, men might experience psychological trauma due to their altered appearance following penile enlargement with silicone injections. Men who have had their penis enlarged using silicone injections report shame and embarrassment about how they look after receiving them. This feeling can last long after any initial physical problems have entirely healed. Additionally, many men with silicone injected into their penis avoid medical treatment for fear of ridicule and discrimination. Unfortunately, this embarrassment can delay the presentation of definitive surgical treatment.
WHEN SHOULD I HAVE MY SILICONE INJECTIONS TO THE PENIS REMOVED?
Most silicone injections to the penis should be removed as soon as possible. However, it is only a matter of time before you experience the abovementioned problems. Patients experiencing complications like chronic infections and pain should seek medical consultation immediately. Before your definitive surgery, you may need oral antibiotics to minimize any infection. Usually, the earlier your silicone injections are removed, the better.
CAN SOMETHING BE INJECTED INTO MY PENIS TO DISSOLVE THE INJECTED SILICONE?
Nothing dissolves silicone. Silicone is a permanent compound. Silicone is not biodegradable and does not naturally dissolve. In addition, steroids, hyaluronidase, and antibiotics do not dissolve silicone. Steroids may decrease the inflammation and scar tissue around the injected silicone, but steroids do not dissolve silicone. Hyaluronidase dissolves hyaluronic acid. Since silicone is not hyaluronic acid, hyaluronidase does not dissolve silicone. Antibiotics can fight infection surrounding silicone, but antibiotics do not dissolve or break-down silicone.
HOW ARE SILICONE INJECTIONS TO THE PENIS REMOVED?
Removal of penile silicone injections is a complex surgery and requires surgical experience. For this reason, you must entrust your care only to qualified surgeons knowledgeable about penis silicone injection removal techniques. In addition, do your research to ensure maximal safety and optimal outcomes for your treatment.
Penile silicone is removed with surgery under general anesthesia. The surgical procedure takes about three to four hours to complete. Incisions are placed over the silicone and associated scar tissue or granulomas. Dissection is done to the mass, and the mass and associated scar tissue are removed. If the entire shaft of the penis is involved, an incision is made around the tip, typically where a circumcision incision is placed. If the injected silicone is just under the head of the penis, an incision is placed directly over the product and scar tissue. Dissection is carried from the circumcision incision to the base of the penis. The shaft is exposed. Once all injected products, granulomas, and scars are removed, the skin is re-draped over the shaft, and the incision is closed.
WHAT IS THE RECOVERY TIME AFTER SILICONE REMOVAL FROM THE PENIS?
Most swelling and bruising (80%) should be gone in approximately two weeks. All the swelling (100%) should be gone at approximately six to eight weeks. Return of erections should occur at approximately six to eight weeks.
Below is a recent surgical case for the removal of illegally injected silicone from the penis.
History: This is a 48-year-old Black male who had foreign bodies injected electively into his penis one year before presentation. A friend suggested these injections while he was on vacation in Miami, Florida. The injector was non-certified non-medical personnel illegally injecting patients in a hotel room. The patient was unaware of what product was injected and was injected on four occasions. The patient was told that the product was "collagen." Over the next 12 months, the patient began experiencing localized pain, dyspareunia, and painful erections. Due to the pain, he stopped having intercourse with his wife. Also, he noticed masses along the shaft of his penis and migration of the product from the glands to the pubic region. He sought medical advice.

Physical Examination: A physical examination revealed a circumscribed male with normal scrotum and testicles. The length of the penis was 14.5 cm (non-erect) long and 20 cm in circumference. Further examination showed multiple firm, painful masses from the glans to the base of the penis. Most masses were fused, contributing to an almost solid mass of scar tissue circumferentially around the entire penile shaft. In addition, there was a palpable nodule measuring 2x1cm at the dorsal right side of the base of the penis. No palpable abnormal scrotal masses. No inguinal node involvement.
Figure 1: Physical examination of penis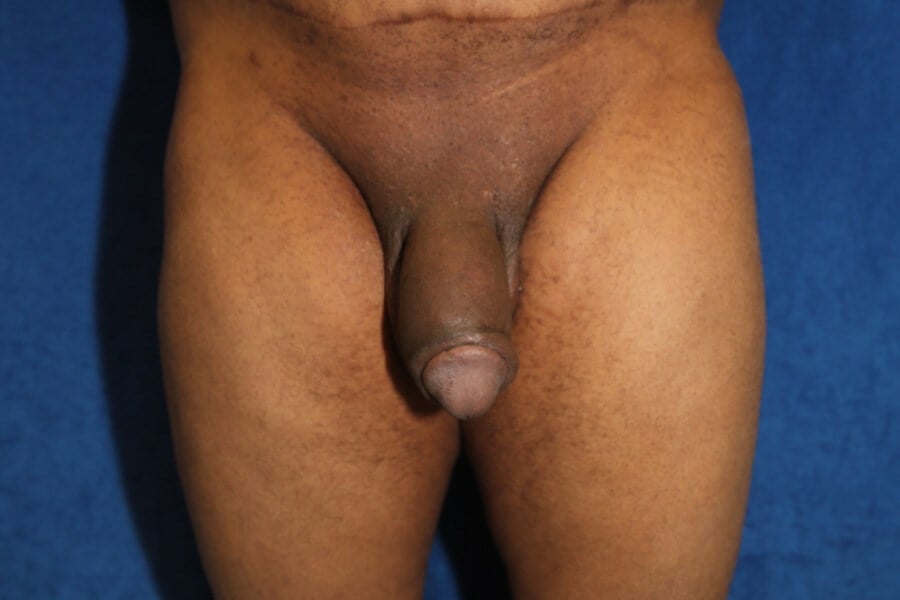 Figure 2: Physical examination with markings showing areas of illegally injected silicone, granulation tissue, and scar tissue,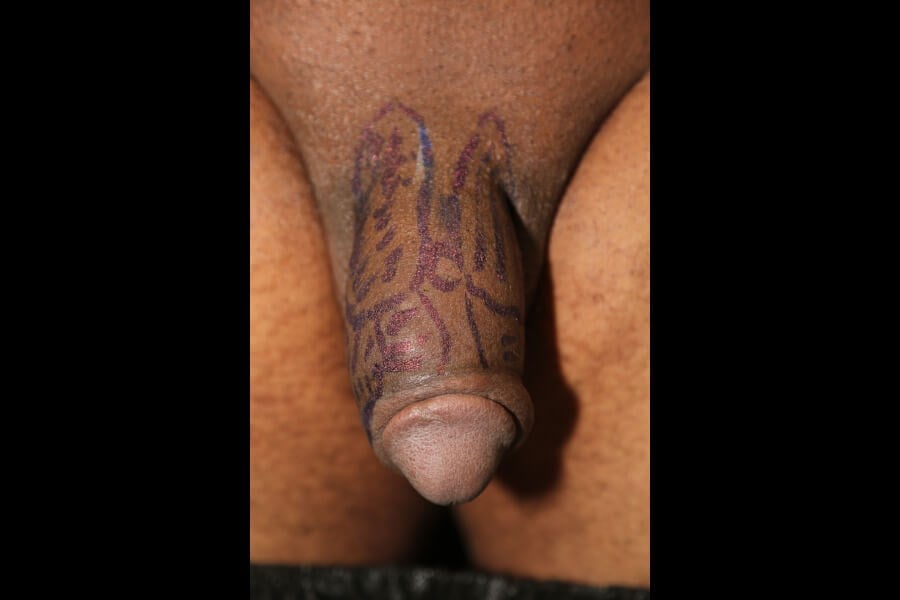 MRI: An MRI revealed T1 hypointense and T2 hypointense diffuse thickening of the space between the proximal fascia and the skin overlying the penis. This was noted circumferentially throughout the entire penile shaft. On T2 STIR images, the thickening was hyperintense consistent with the silicone. The impression was suggestive of penile parafinoma with associated granulomatous foreign body reaction.
Surgery: Surgery was suggested for foreign body removal. The surgery was performed under general anesthesia. A circumferential incision was made in a skin crease fold in his prior circumcision scar. Tissue dissection was carried to Colle's fascia. Dissection was completed from the proximal portion of the glans penis to the base of the penis. The penile shaft skin was retracted proximally. Dissection revealed extensive foreign body injections, granulomas, and scar tissue throughout the shaft of the penis.
Figure 3: Dissection from subcorona to the base of the penis. Examination shows multiple silicone foreign bodies and granulomas along the shaft. There were significant silicone foreign bodies in the thickened skin of the shaft of the penis.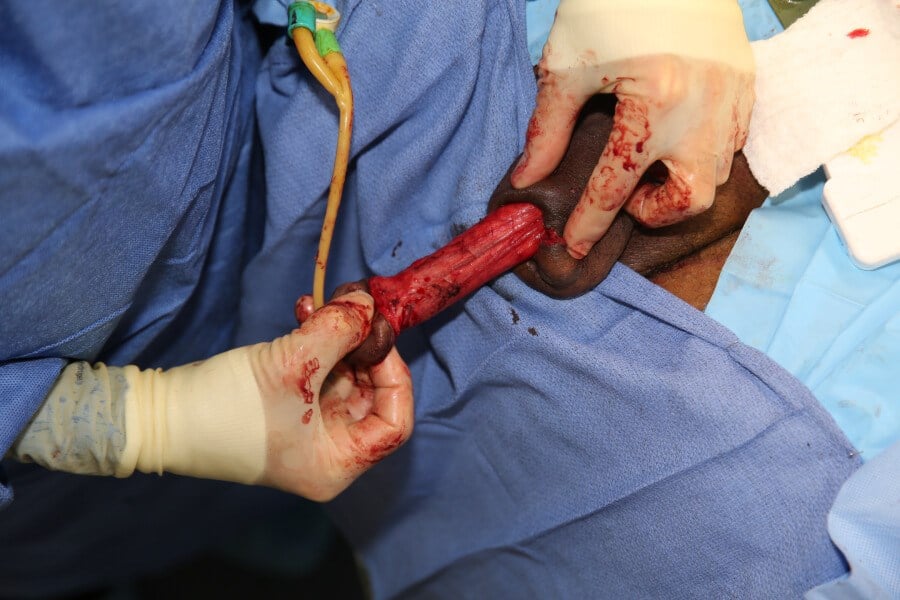 The masses removed were clear and consistent with silicone. Tissue exploration and foreign body and scar tissue removal were also done on the retracted skin flap to ensure complete removal. The wound base was irrigated with antibiotics and saline. The skin was re-approximated with dissolvable sutures. A minimally compressive dressing was applied. A Foley catheter was left in place.
Postoperative course: On postoperative day three, the Foley catheter was removed. The patient was encouraged to massage the penis. Two weeks after surgery, cavitation massage was prescribed twice a week for three weeks to minimize scar tissue formation. The patient was instructed to achieve erections twice a day. Due to prior difficulties with painful erections, the patient was prescribed Viagra. Three weeks after surgery, the patient reported nighttime erections for the first time since his foreign body injections. Six weeks after surgery patient was allowed to have intercourse. For the first time in over one year, the patient could have painless intercourse. The patient has been pain-free without any palpable masses on the penis. The patient is thrilled with his results.
Conclusion: If you are considering silicone injections to the penis, DO NOT GET THEM. Do not be tricked by a "medical professional" saying that silicone injections in the penis are safe. Never follow a "friend's" recommendation without doing your due diligence first!
If you already have silicone injection to the penis, please have the injections and associated scar tissue removed before complications start.
If you have a foreign substance (including silicone) or you do not know what was injected into your penis and you do not know where to start, please call Dr. Katzen at (310) 859-7770. Dr. Katzen will carefully examine you and determine your options. For your convenience, Dr. Katzen has offices in Beverly Hills, CA, Las Vegas, NV, and Dubai, UAE.