How to Best Prepare for Hot Girl Summer
The term "Hot Girl" Summer is used to motivate people to have their bodies in shape for summer.
The most common procedures patients seek to achieve a bikini-ready body are liposuction and tummy tucks.
The most common body areas for liposuction are the abdomen, side of the hips, love handles, low back, inner thighs, outer thighs, and arms.
The unwanted extracted fat is used to enhance the size of the buttocks, breasts, and to rejuvenate the face and hands. Fat transfer can even use for biceps or triceps augmentation.
Dr. J. Timothy Katzen, M.D., Beverly Hills, CA, noted, "I have many plastic surgery procedures to offer you the hot girl summer figure. Normally, I take fat out and throw it away in the trash can. So instead of throwing that precious, beautiful, wonderful fat away, I transfer the extracted fat into multiple different body areas. Typically, I purify the extracted fat before injection into the buttock. Sometimes, I transplant that fat into the breast as a breast augmentation. Sometimes, I transplant that fat into the face. Sometimes, I transplant that fat into the back of the hand, and even the biceps and the triceps. So, it's all about the patient's goals and aesthetic demands what they are looking for."
Six questions about Hot Girl Summer You will be Excited to Ask:
1. What are the prime procedures for "Hot Girl" Summer?
Liposuction, tummy tuck, Brazilian butt lift, and breast augmentations are excellent plastic surgery procedures for Hot Girl Summer. Women want a sculpted, defined figure with an hourglass profile. Men enjoy defined six-pack abs and V-shaped torso. Therefore, liposuction surgery is the most sought-after procedure for men and women. Unwanted fat can be removed from the abdomen, back, arms, love handles, buttocks, and outer and inner thighs.
Dr. J. Timothy Katzen is highly qualified and experienced in performing high-definition liposuction to tone and contour the body areas. To accomplish the aesthetic goals of a contoured body figure, Dr. Katzen employs the advanced VASER (Vibration Amplification of Sound Energy at Resonance) technology.
2. How can I achieve more defined muscles without deadly silicone injections?
First, a big "NO" to silicone injections. Liquid silicone injections are illegal, off-label use for body contouring purposes. Silicone injection poses various life-threatening risks, such as blockage of blood vessels, heart attack, stroke, renal failure, permanent disfigurement, and brain fog. Liquid silicone injections can trigger some autoimmune diseases like Addison, Hashimoto's thyroiditis, rheumatoid arthritis, and Celiac disease. Dr. Katzen has written many blogs about the hazards of silicone. Second, muscle definition of the biceps, or triceps, is perfectly achieved with the muscle fat transfer procedure. Fat transfer of the biceps and triceps makes the muscles bigger. So typically, I am doing it on male patients. Still, suppose somebody wants more defined muscles. I can augment the muscles in the arms by doing the fat transfer. Finally, one must note that silicone injection for body contouring is a dangerous option. Do not even think about an off-label liquid silicone injection because it can be fatal.
3. Does muscle definition with fat transfer to biceps or triceps look like lumps of fat?
No, muscle definition with fat transfer does not look like lumps of fat. The fat transfer looks like a bigger bicep and triceps. Fat transfer for muscle definition is a much better, safer, and healthier solution than silicone injections. Do not even think about doing silicone injections. Silicone injection causes a whole heap of problems later. If you have had a silicone injection, schedule a consultation with Dr. J. Timothy Katzen, and undergo the silicone removal procedure as soon as possible.
Note: Silicone injections are not for Hot Girl Summer. No, not at all! So, typically, the most common procedure we perform for Hot Girl Summer is liposuction. However, suppose you have a lot of excess skin on your tummy. In that case, Dr. Katzen may recommend a tummy tuck/ abdominoplasty.
4. What are the differences between liposuction and tummy tuck?
Liposuction is another popular plastic surgery procedure and is a winning contouring option when talking about Hot Girl Summer figures. Both men and women enjoy the benefits of this fat extraction procedure that permanently removes fat from localized body areas. Thus, liposuction eliminates unwanted, excess fat from stubborn body areas. However, after eliminating a significant amount of fat or losing a massive weight, sagging skin can become a common concern that requires cosmetic attention. So, suppose you have too much excess skin, maybe many stretch marks, or radiation damage from sitting at the beach in the sun. In that case, the skin may not bounce back. So, in that case, Dr. Katzen may recommend a tummy tuck surgery. During a tummy tuck, Dr. Katzen removes fat, and excess skin and tightens the muscles. In addition, Dr. Katzen reduces and lifts the pubic region. So, a tummy tuck is a lot more involved than just the liposuction procedure. As a result, you can achieve a defined, toned, and contoured body profile.
5. What is bullfrog neckline, and how does it create a concern for "Hot Girl" Summer?
Dr. J. Timothy Katzen has treated a lot of patients with bullfrog necklines. Bullfrog neckline is characterized by circumferential enlargement of the neck extending from the base of the neck at the clavicle to the superior pole of the neck at the angle of the mandible. To treat this area, Dr. Katzen does neck liposuction. Typically, Dr. Katzen makes one incision underneath the chin and underneath each ear lobe. Tumescent fluid is injected. Liposuction is performed in a fanning fashion. The procedure lasts about maybe an hour and gives dramatic results. Interestingly, you can see the results right away in the operating room. Swelling continues for maybe about a week or two. As a result, you achieve a brand-new neck with a contoured neckline.
6. What diet would you recommend for "Hot Girl" Summer?
The best diet for Hot Girls' Summer is the ketogenic diet. Protein intake should be increased, things like egg white, chicken, fish, and tofu must be on your diet list. You should try to limit your carb intake, but less is better. Avoid sugar, alcohol, and greasy foods because these are not good for your hot body look. You must add exercise to your daily routine, especially cardiac and weight-resistant muscle training.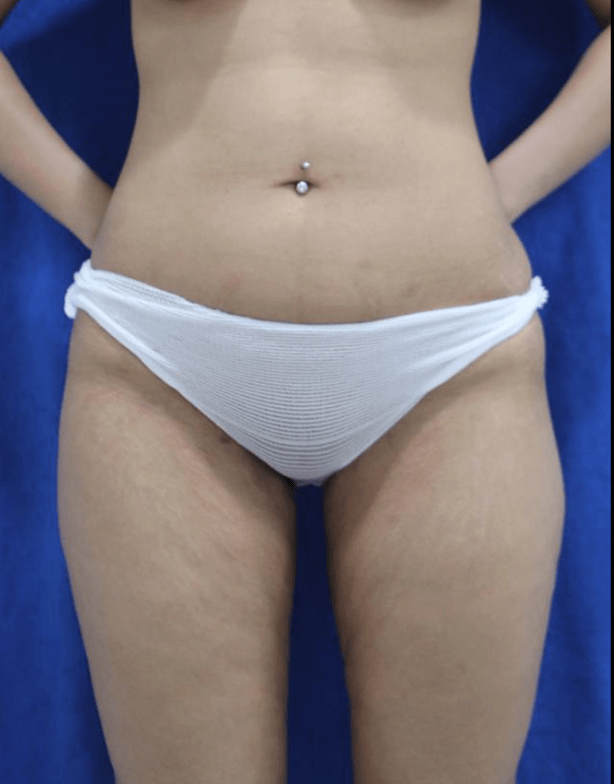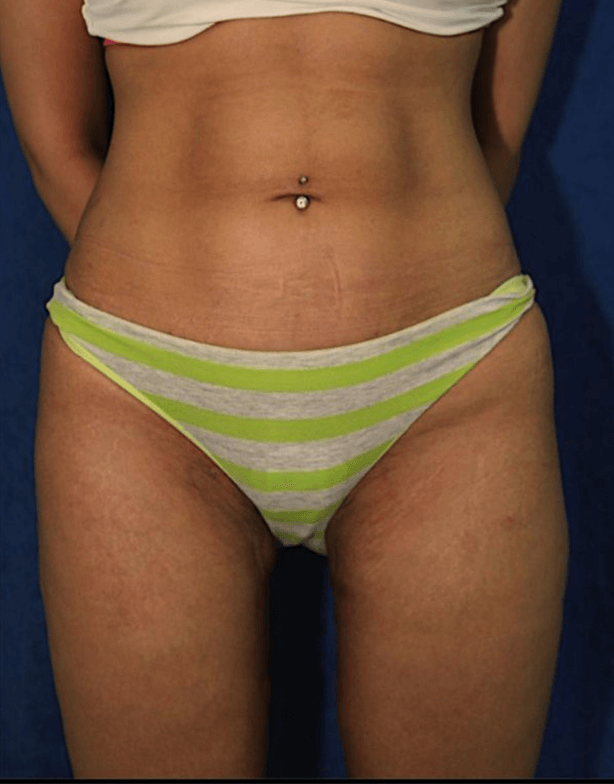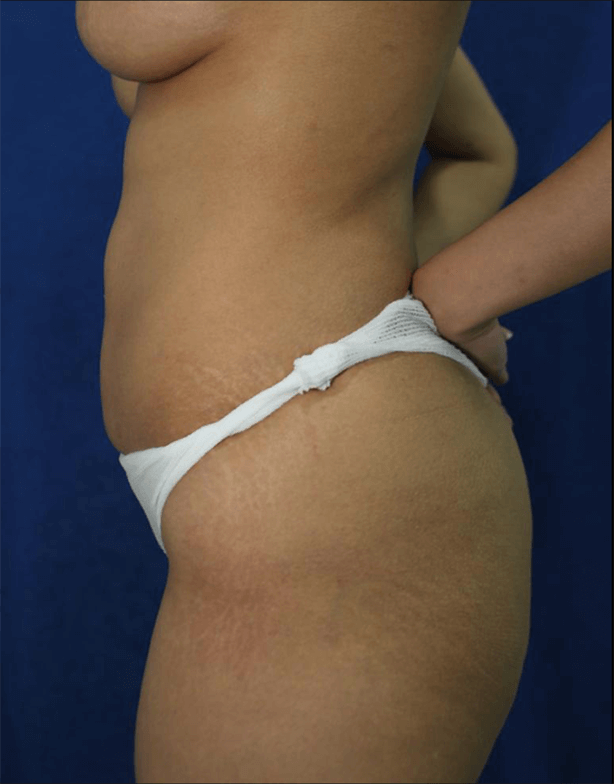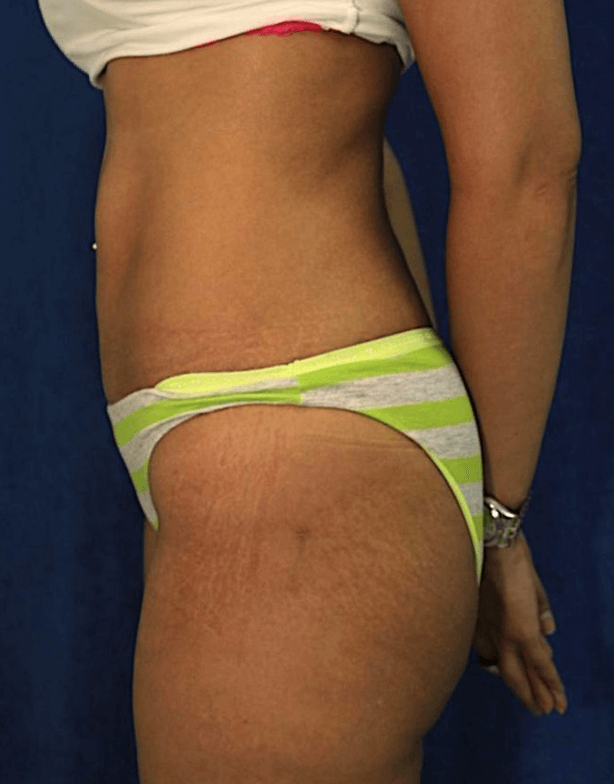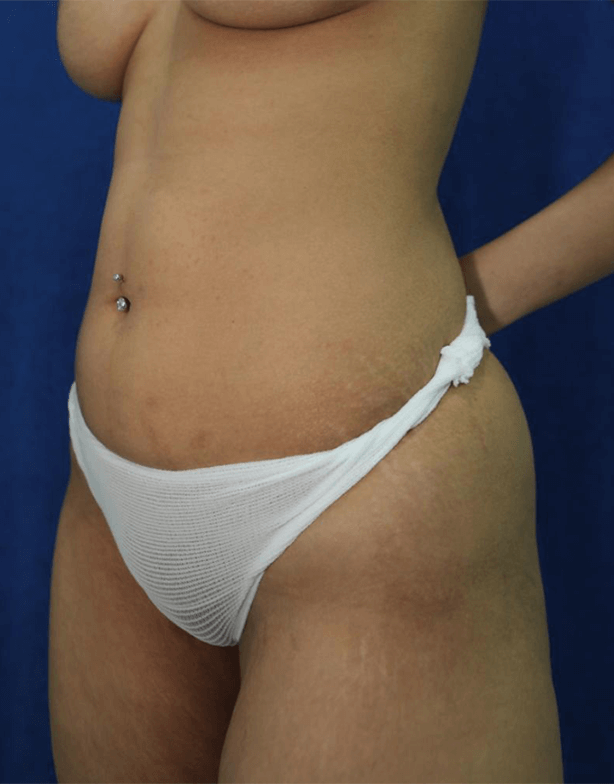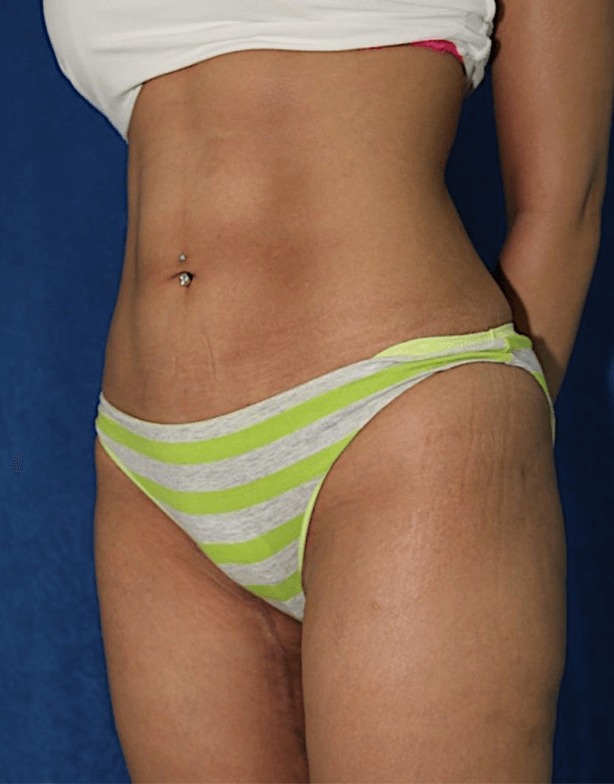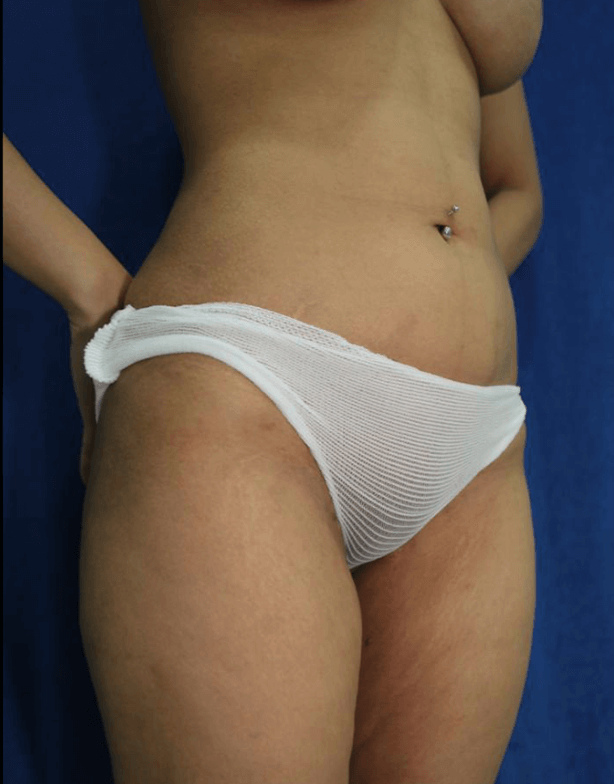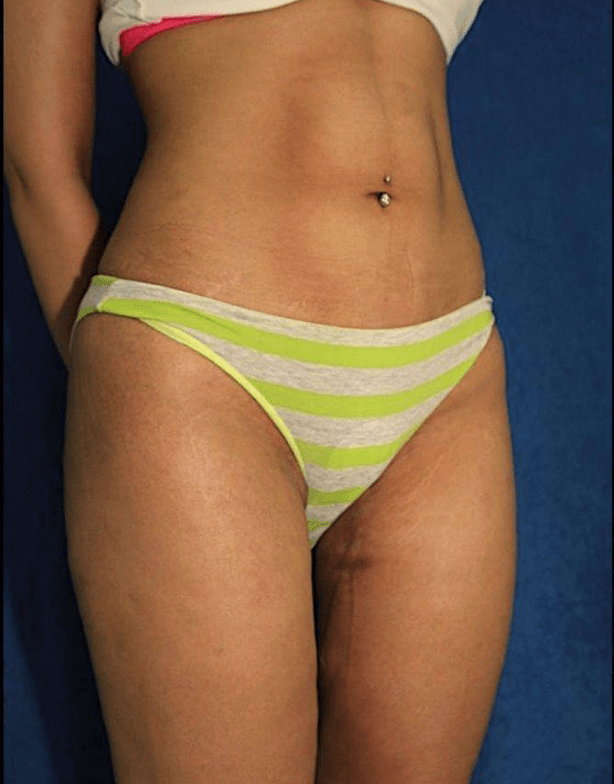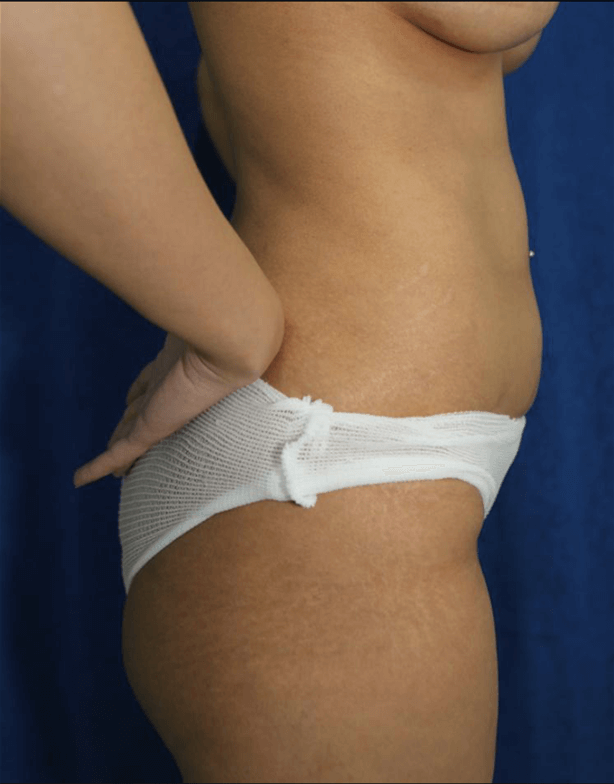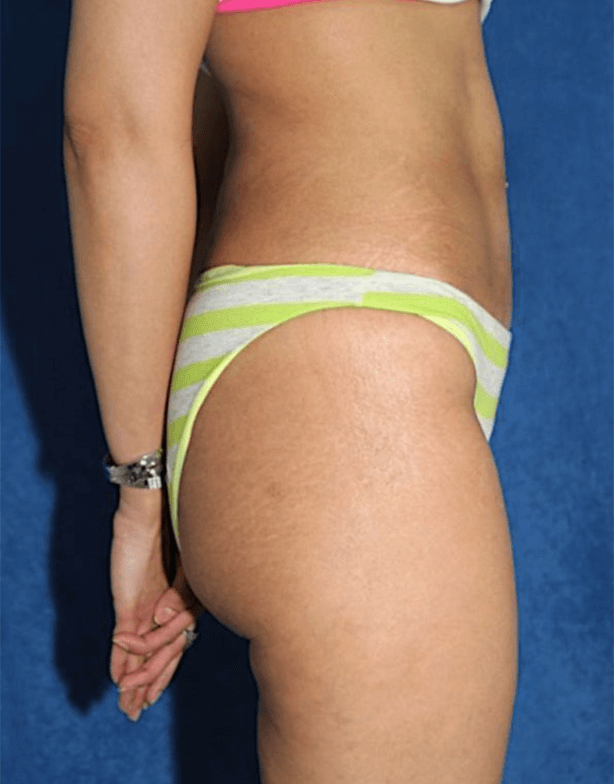 This 34 year old female patient had trouble toning her abdomen with exercise and diet. She wanted a more defined, six pack for summer. She underwent VASER Hi-Def and is very happy with her results.
Conclusion:
Liposuction helps reset the clock of concerned body areas requiring contour correction and aesthetic definition. Liposuction gives you permanent results, and fat does not grow back in those areas. Dr. Katzen recommends that you maintain a healthy lifestyle followed by diet and exercise for long-lasting results. Suppose you do not follow a healthy lifestyle and gain weight after liposuction. In that case, the fat does not preferentially go to where the liposuction has removed fat. Fat will equally distribute throughout your entire body, putting fat on your back, love handles, inner thighs, and a little bit on the tummy. Still, your fat does not all return to where you had liposuction. Thus, it is a big plus of the Hot Girl Summer procedures.
Call TODAY to schedule your hot girl summer procedure consultation. For your convenience, Dr. Katzen has offices in Beverly Hills, CA, Las Vegas, NV, and Dubai, UAE. Physical or virtual consultations can be arranged. Virtual consultation options include FaceTime, Zoom, Skype, and WhatsApp. Call TODAY at (310) 859-7770 or email [email protected] to schedule your consultation and be ready for a hot people summer.