Is it Safe to Get A Brazilian Butt Lift After Silicone Injection Removal?
Are you worried about the consequences of your raw silicone, but are concerned about how you'll look if it's removed? BBL butt reconstruction may be possible.
There are many reasons why patients hesitate to have their illegal silicone butt injections removed, including fear, shame, and concerns about how they'll look after surgery. While these feelings are understandable, patients must have their raw silicone injections removed to avoid uncomfortable and potentially fatal side effects. At J. Timothy Katzen, M.D. Beverly Hills, plastic surgeon, and silicone removal expert Dr. J. Timothy Katzen is committed to helping patients restore their health and still feel confident about their appearance with silicone injection removal plus – when it is safely possible to do so – butt reconstruction with a Brazilian butt lift.
Let's take a closer look at BBL after silicone injection removal, including how it works, the safety factors that should be considered, and the possible results for you.
Why should I get my silicone injections removed?
No matter where they are in your face or body, raw silicone injections should be removed as soon as possible. Raw silicone injections are not only illegal, but they are also extremely dangerous and can lead to a wide range of cosmetic and medical issues, including:
Chronic pain
Migration
Permanent disfigurement
Autoimmune disorders
Cancer
Organ failure, especially kidney failure
Death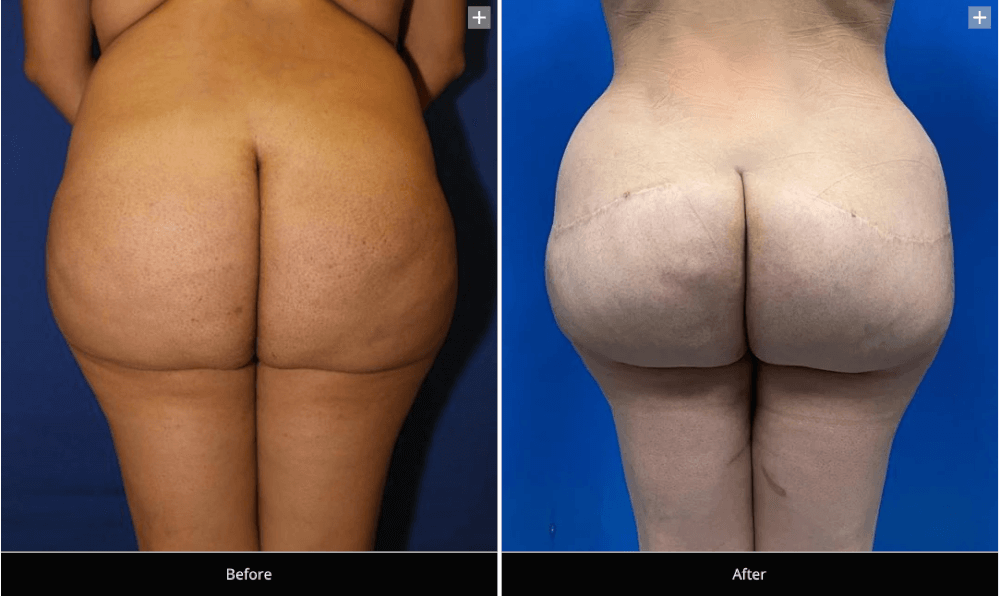 How are silicone injections removed from the butt?
Based on the location of your raw silicone, how much silicone is present, and other factors, Dr. Katzen will recommend one of the following methods of removing silicone injections:
Ultra-sound guided VASER-assisted silicone and scar tissue suction
Direct incision
The direct incision technique is most appropriate in many cases involving raw silicone in the buttocks. It gives Dr. Katzen the most significant amount of visibility and access, allowing him to remove as much silicone as possible. With this approach, Dr. Katzen will create an incision across the top of each buttock. Then, after pulling back the skin and fat, Dr. Katzen will locate the encapsulated silicone beads or pearls and manually remove them.
Dr. Katzen takes great care to preserve as much of the patient's natural tissues as possible. Still, in many cases, removing some of the fasciae – the layer between the fat and muscle – is necessary to extract silicone that may have been injected too deeply. Once the illegal silicone material has been removed, Dr. Katzen may excise a portion of skin, pulling the remaining skin upward to create a smooth, natural-looking new buttock shape.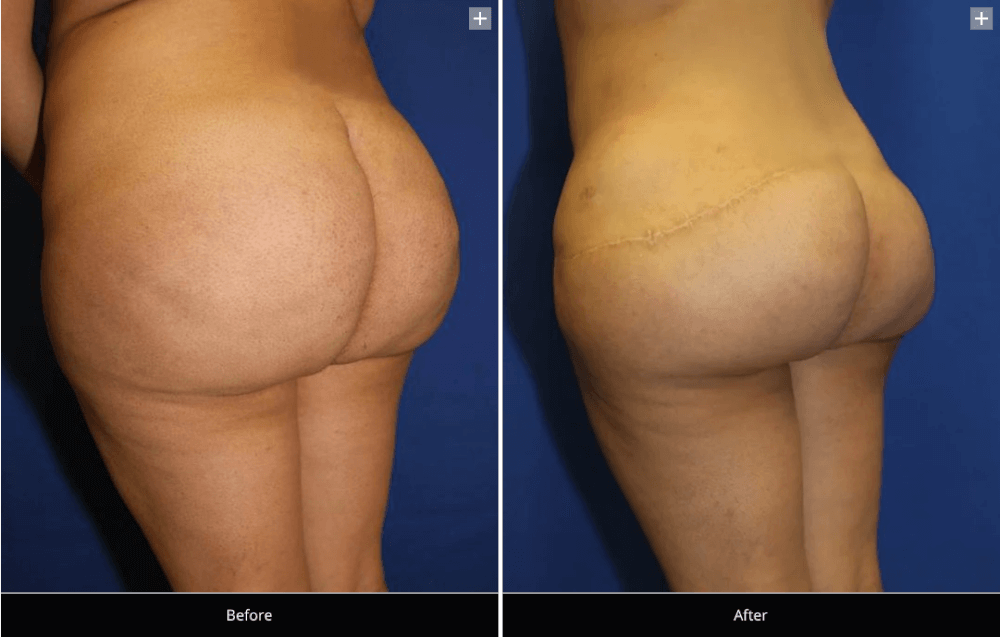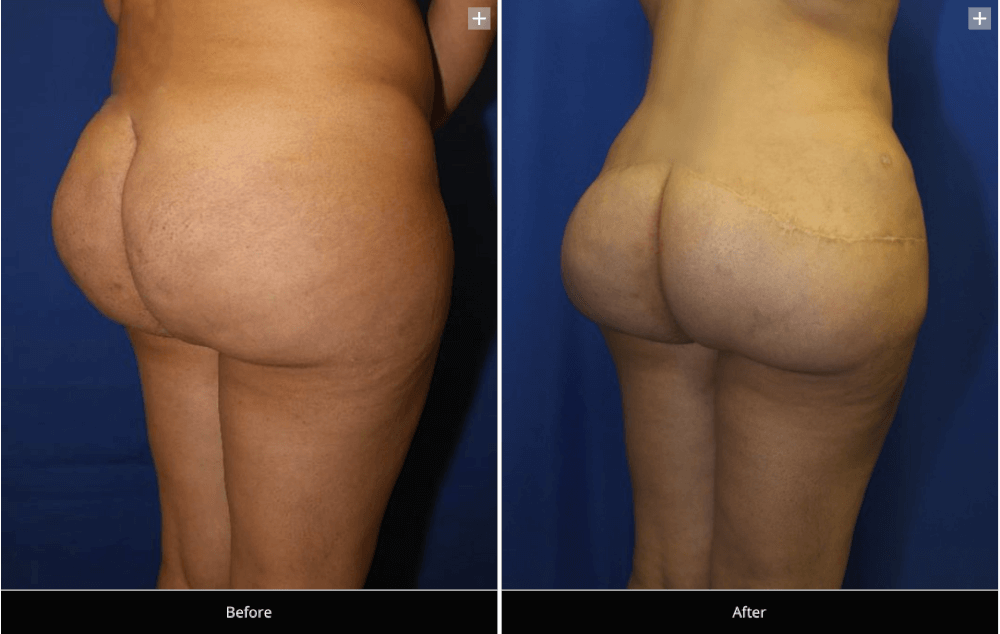 How will my butt look after the silicone is removed?
For some patients, silicone injection removal results in a pleasing and natural-looking new butt shape. Still, the outcome of silicone injection removal can vary based on the location of the silicone, how stretched the skin may have become, how much silicone is removed, and other factors. Once the patient has healed and their postoperative swelling has subsided, Dr. Katzen will evaluate their progress and determine if a secondary procedure may be necessary to restore their desired look. In the case of silicone injection removal from the buttocks, a Brazilian butt lift (fat transfer to the butt) may be an appropriate solution for filling in hip dips and enhancing the volume and shape of the butt.
What are the risks of BBL after silicone injection removal?
When appropriately performed by a highly skilled and experienced plastic surgeon, BBL surgery can be a safe and effective buttock reconstruction option for patients who have undergone silicone injection removal. However, certain complications can occur following illegal silicone injections that may disqualify a patient from undergoing BBL after silicone removal. Therefore, during your initial consultation, preoperative, and postoperative follow-up appointments, Dr. Katzen will carefully evaluate your complete history and current situation to determine if BBL butt reconstruction may be safe and effective.
Dr. Katzen shares his patients' desires to protect their health and well-being. Therefore, Dr. Katzen will make every effort to ensure his patients are comfortable and healthy.
Please don't wait until it's too late to get your silicone injections removed in Beverly Hills, CA.
Even if you aren't experiencing symptoms now, your raw silicone injections should still be removed to avoid the possibility of permanent damage, chronic pain, and even cancer. To learn more about your silicone removal and buttock reconstruction options in Beverly Hills, CA, call J. Timothy Katzen, M.D. Beverly Hills today to schedule your private consultation with a plastic surgeon and leading silicone injection removal expert, Dr. J. Timothy Katzen.
Call to schedule a consultation. For your convenience, Dr. Katzen has offices in Beverly Hills, CA, Las Vegas, NV, and Dubai, UAE. In addition, physical or virtual consultations can be arranged. Virtual consultation options include FaceTime, Zoom, Skype, and WhatsApp. Call (310) 859 - 7770 today to schedule your consultation to protect your health and achieve the buttock of your dreams.