When we look at ourselves in the mirror, sometimes we see two profiles. Often, this can be due to the dreaded double-chin. Having extra skin and fat under the neck can be nerve-wracking and can destroy your confidence. Excess neck skin and fat can significantly impact your social life, as well as your interactions at work. Lack of self-confidence can cause failure to perform at work (by not closing deals etc.), and can lead to eventual loss of income. But did you know neck lift surgery can significantly improve problematic aesthetic facial and neck issues? Neck lift surgery can even boost your confidence. Neck lift surgery primarily addresses three neck issues: excess neck fat, neck muscle sagging, and loose neck skin. Some neck lift procedures require neck liposuction. Some neck lift procedures require neck skin removal. Some neck lift procedures require both neck liposuction and removal of excess neck skin.
Before Surgery Before you go under the knife, Dr. Katzen will consult with you and discuss every surgical and non-surgical option available to you. During the consultation, Dr. Katzen will also examine and analyze your neck and facial aesthetic features. You and Dr. Katzen will also explore your personal surgical goals and determine if they are reasonable and obtainable. During your consultation with Dr. Katzen, he will advise you as to the best surgical or non-surgical options. Dr. Katzen will give you a rundown of what you should expect during your neck lift surgery. He will also discuss risks involved, recovery, and answer any questions you may have. Dr. Katzen will then take pictures to personally study your neck and face to achieve the best outcome.
Under the Knife Surgery will most likely be performed in a Medicare accredited, outpatient surgical center. Usually, the neck lift procedure is performed under general anesthesia. Depending on the patient, the neck lift may take one to three hours to perform. Also, depending on the patient's ultimate goal, incisions and surgical technique will vary greatly.
After Surgery After your neck lift procedure, you may experience some swelling and bruising around the neck, ears, and jaw. It is very important to follow Dr. Katzen's post-op instructions for a speedy recovery. The neck lift leaves minimal scars. Often, you will see immediate results. About five to seven days after the neck lift, the sutures will be removed. Recovery time for a neck lift procedure takes about two to four weeks. The neck lift scar will improve over the course of two to four months. If you feel pain, or anything unusual arises, contact Dr. Katzen immediately. The cost of a neck lift varies greatly geographically and from plastic surgeon to plastic surgeon. Dr. Katzen has finance options available to patients.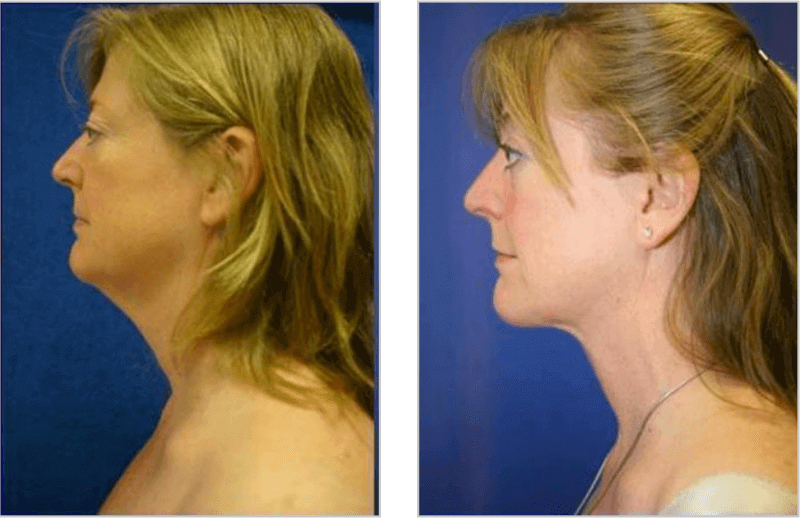 Insurance companies rarely, if ever, cover a neck lift surgery. Insurance companies view the neck lift surgery as a cosmetic procedure. Dr. Katzen is a plastic surgeon with offices in Beverly Hills, California and Las Vegas, Nevada. If you have questions regarding neck lift surgery or plastic surgery, please call (310) 859-7770. -Dr. Katzen