Popular Opinion: Get a Breast Reduction for You
Patients choose to have breast reduction plastic surgery for many reasons. Men or women desiring breast reductions should move forward with their procedures even if they have concerned loved ones trying to dissuade them.
Many of Dr. Katzen's patients opt for breast reduction surgery to improve their quality of life. Breast reduction surgery can help you feel better physically and mentally. YOU are the only person who can decide if this surgical option is right for you. During your breast surgery consultation, Dr. Katzen will be happy to discuss your concerns and answer questions.
Reasons to Consider a Breast Reduction
Breasts that are too large can cause cosmetic issues, physical discomfort, and self-image problems. A breast reduction can help resolve these issues and help patients look and feel their best.
Pain Relief
Many of Dr. Katzen's patients request breast reduction plastic surgery because larger breasts can cause physical pain. Often, heavier breasts cause back, shoulder, and neck pain. Large breasts and chronic neck and back pain can make daily activities challenging.
Heavy breasts take a toll on the whole body, and many patients have posture issues contributing to their pain. In addition, women with large breasts may have rashes in the folds under the breasts and painful grooves in their shoulders from their bra straps.
Breast reductions result in smaller, lighter breasts and much-needed relief from pain and discomfort.
Improved Mobility
Men and women with larger breasts may find exercising and even everyday mobility challenging. For example, cardio may be impossible due to the size of the breasts and excess weight on the body. In addition, a restricted range of motion can make lifting weights or Yoga poses challenging.
An inability to exercise increases your obesity risk. Additionally, it robs you of powerful exercise-induced endorphins that contribute to good mental health. Therefore, a breast reduction procedure is an investment in your overall health and well-being.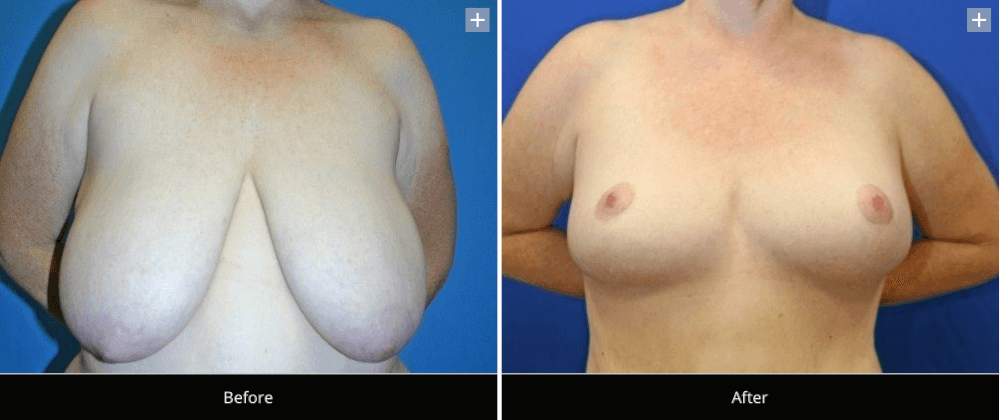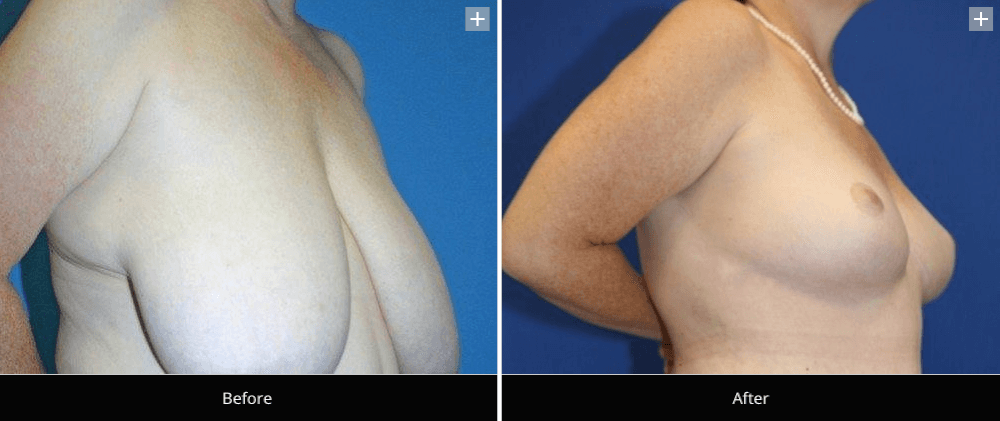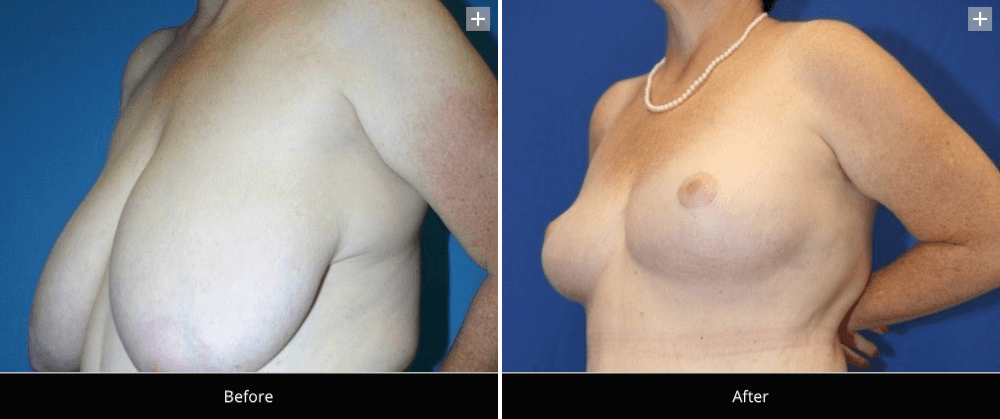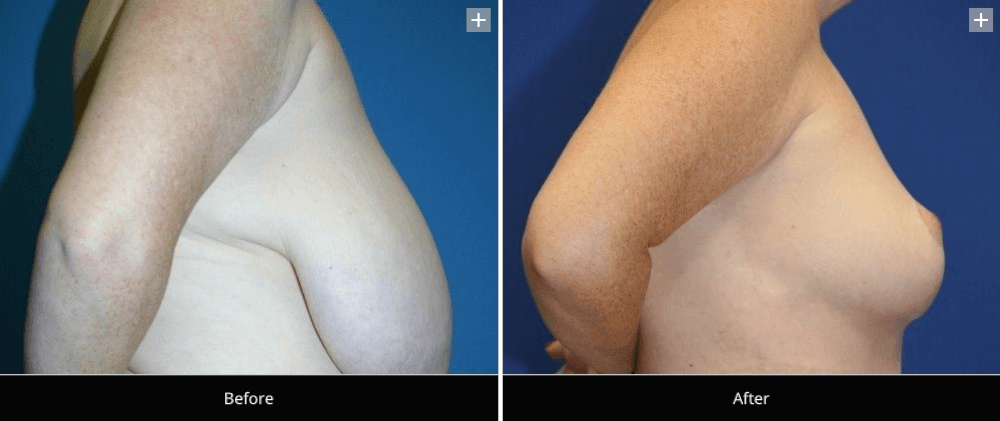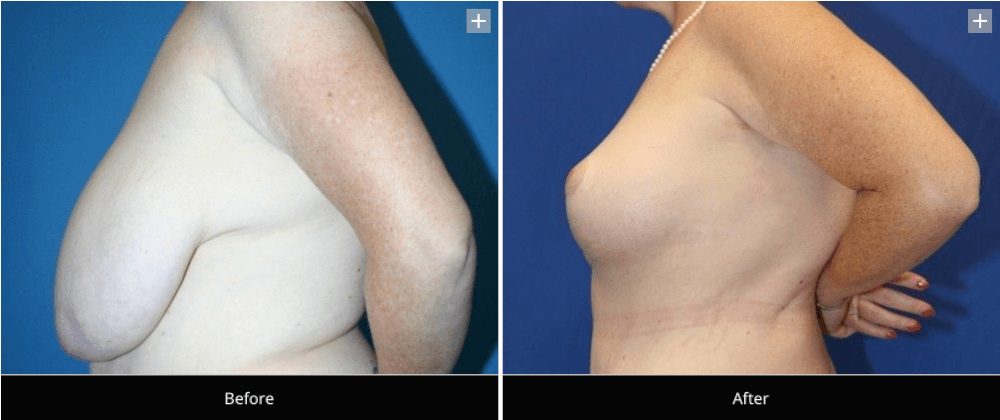 Balanced Body Proportions
Many of Dr. Katzen's patients consider breast reduction plastic surgery because their breasts are not in proportion with the rest of their bodies. Both men and women with larger breasts struggle with this problem.
Some women have asymmetrical breasts that differ in size, shape, position, and volume. A breast reduction can be life-changing for women with asymmetrical breasts, even if the smaller breast is not that large. Dr. Katzen will discuss your desired breast size and recommend surgical methods to achieve your goals.
More Clothing Options
Often, patients with oversized breasts struggle to find clothing that fits them well. They may need to special-order bras, spend money on tailoring, and wear oversized, unflattering clothing. Many of Dr. Katzen's patients long for the day when they can choose clothing right off the rack and have it fit well.
If a lack of clothing options is a problem, breast reduction plastic surgery could be the answer. It is an investment that will save you money in the long term. In addition, you deserve to look and feel your best.
Enhanced Self-Confidence
As you age, your breasts lose their shape and may sag. Sagging occurs because of stretching connective tissue (Cooper's ligaments) in the breast. If you have always had larger breasts, they may become even more of a problem as you get older. As a result, your body may appear heavier than it is, which can cause problems with your self-confidence and self-esteem.
Breast reduction plastic surgery can improve your confidence in many ways. For example, you will have more energy and feel more secure in your appearance.
How is Breast Reduction Plastic Surgery Performed?
Dr. Katzen understands that every patient has their own goals for breast reduction plastic surgery. Therefore, a personalized treatment plan is necessary to ensure a positive outcome for each patient.
During your initial consultation, Dr. Katzen will physically examine your breasts. Breast reduction involves removing excess breast skin, fat, and unhealthy tissue. Next, Dr. Katzen will reshape your breasts and make sure they are symmetrical. Your nipples and areolas must be repositioned and reshaped to blend with your new breast size. Sometimes breast reduction surgery is covered under your medical health insurance.
During your breast reduction, Dr. Katzen will also perform a
breast lift
, resulting in a more youthful appearance. Breast reduction surgery is performed under general anesthesia on an outpatient basis. When you are ready, you will be discharged to heal at home.
Are Breast Reduction Results Permanent?
Your weight directly impacts changes in your breasts following a breast reduction. For this reason, Dr. Katzen recommends that all patients maintain a stable weight before a breast reduction.
Your breasts may get smaller if you lose weight and larger if you gain weight. Dr. Katzen will discuss how you can do your part to enjoy your results as long as possible after you have breast reduction plastic surgery.
What to do if Your Loved One is Nervous About Your Breast Reduction
Frequently, Dr. Katzen will talk with patients with a spouse or another family member who feels uneasy about their loved one undergoing breast reduction plastic surgery. Breast reduction patients may find it challenging to move forward without support from the people they love the most.
However, Dr. Katzen recommends being honest with yourself about how your current large breast size has negatively impacted your life. If larger breasts are affecting your ability to stay healthy or feel good about yourself, a breast reduction may help.
Consider inviting your loved one to your initial consultation with Dr. Katzen. Being able to ask questions and get qualified answers may be all that is needed for them to support you in your decision. However, the final decision to have breast reduction plastic surgery is up to you.
Schedule Your Initial Consultation for Breast Reduction Plastic Surgery
A breast reduction can reduce or eliminate your pain, help you be more active, and improve your self-esteem. If larger breasts are causing issues for you, talk with Dr. Katzen about breast reduction plastic surgery.
Dr. Katzen is scheduling initial consultations for patients interested in breast reduction plastic surgery. In-person appointments are available. Dr. Katzen also meets patients virtually via WhatsApp, FaceTime, Skype, or Zoom. He has offices in Beverly Hills, CA, Las Vegas, NV, and Dubai UAE.
If you would like to schedule your initial consultation, please call Body by Katzen at (310) 859-7770.