SAFETY: BBL vs. Buttock Implants
When it comes to plastic surgery, patient safety is of utmost importance. So if you are considering butt enhancement surgery, a Brazilian butt lift (BBL) and insertion of buttock implants are two options Dr. Katzen offers. The question is, which one is the safest?
Both buttock implants and BBL are safe and effective. However, you may be a better candidate for one over the other. Here is a closer look at both butt enhancement surgeries, the similarities and differences, and how to know which option is best for you.
What is a Brazilian Butt Lift?
A Brazillian butt lift is a type of plastic surgery that aims to enhance the look and shape of the buttocks without implants. A BBL is more natural because it involves transferring the patient's extracted fat into the buttocks.
Typically, BBLs are performed on an outpatient basis under general anesthesia. First, Dr. Katzen uses liposuction to remove excess fat from other body areas. Commonly targeted areas include the upper thighs, lower back, flanks, and stomach. Once the fat is purified in a sterile centrifuge system, it is ready for transfer to the buttocks.
Dr. Katzen injects the patient's healthy fat tissue into the buttocks one layer at a time. Then, gentle massage ensures even fat distribution and a smooth, natural-looking result.
Are Brazilian Butt Lifts Safe?
BBLs are safe when performed by a board-certified, experienced plastic surgeon. There have been cases involving fat embolisms developing, which allow fat to enter the bloodstream and reach the heart and other organs.
In the past, BBLs were labeled as the "most dangerous plastic surgery procedure." When a BBL is being performed, harvested fat can be injected either into the buttocks fat or muscle. With experience, plastic surgeons have found that if fat is injected into the gluteus muscle, the injected fat can migrate to the lung. This is called a fat emboli. Fat emboli can kill patients.
Because of this association between BBLs and fat emboli when injected into the muscle, the American Society of Plastic Surgery issued a letter to all its members to let them know of this association. The letter instructed members to not inject fat into the gluteus maximus muscle because of concern for fatal fat emboli.
Therefore, almost all plastic surgeons do not inject fat into the gluteus maximus muscle anymore. Since this transition to only injecting fat into the buttock fat, deaths from BBLs have significantly decreased.
While there are risks involved with any plastic surgery procedure, there is less risk when choosing a board-certified plastic surgeon. Dr. Katzen has safely performed many Brazilian butt lifts for happy, satisfied patients.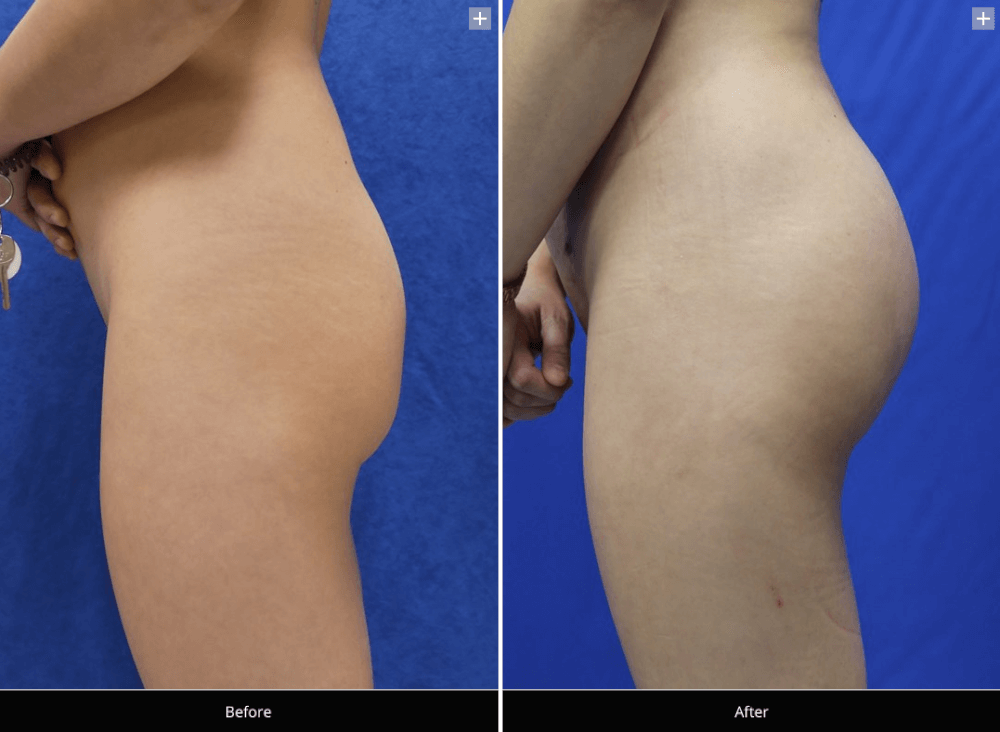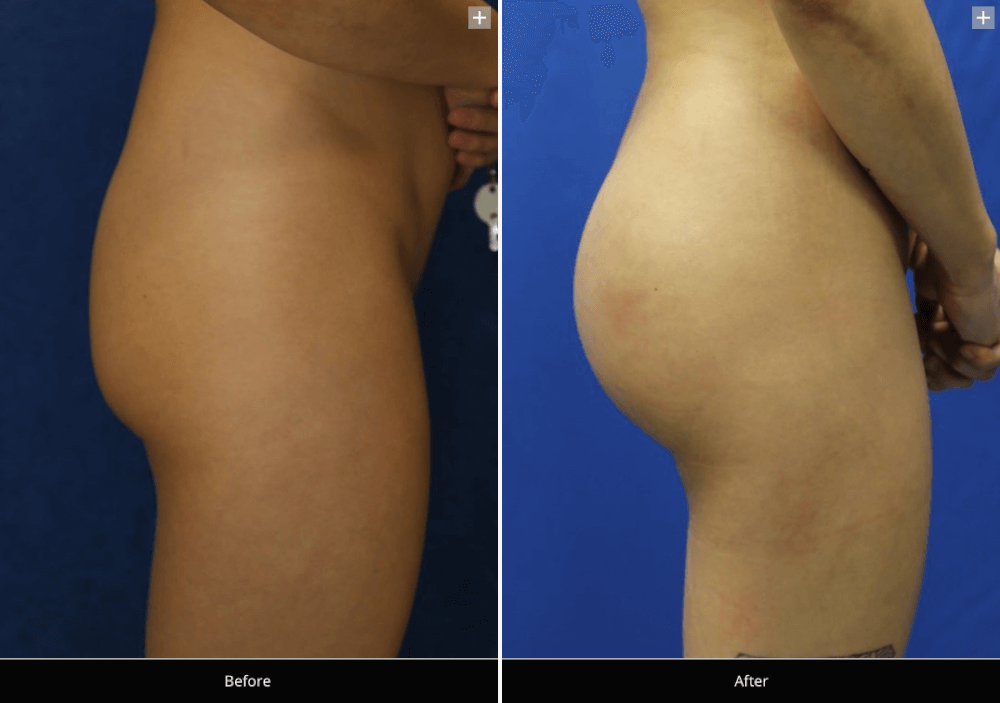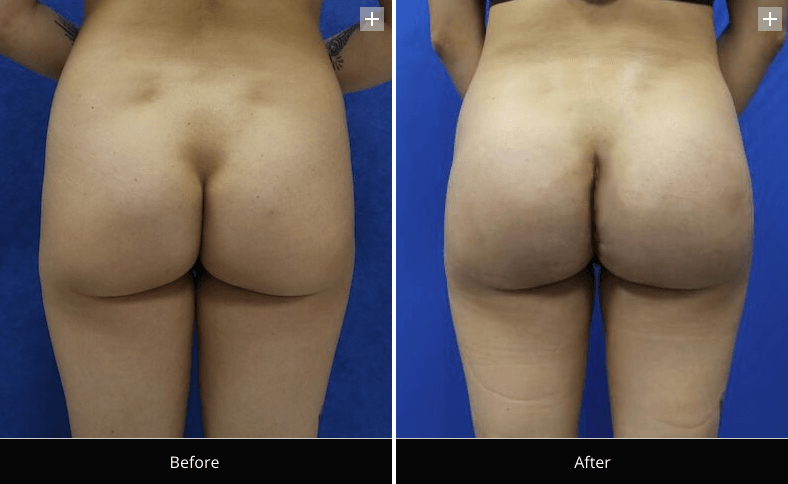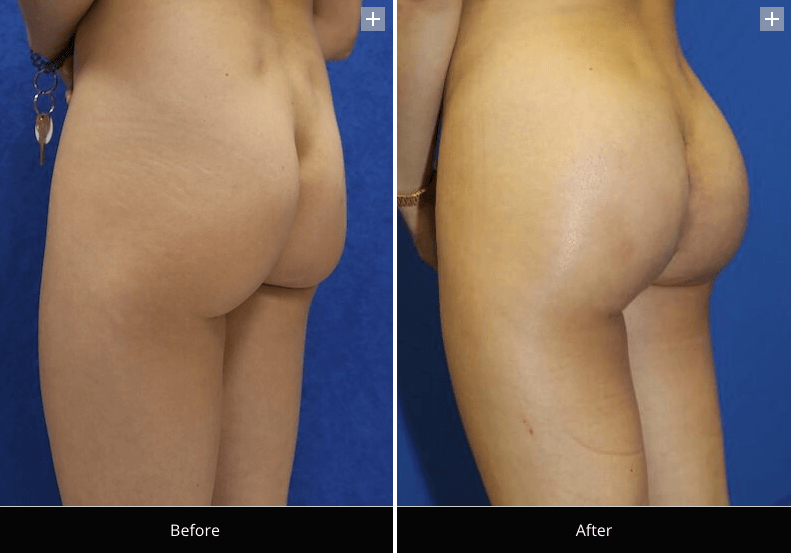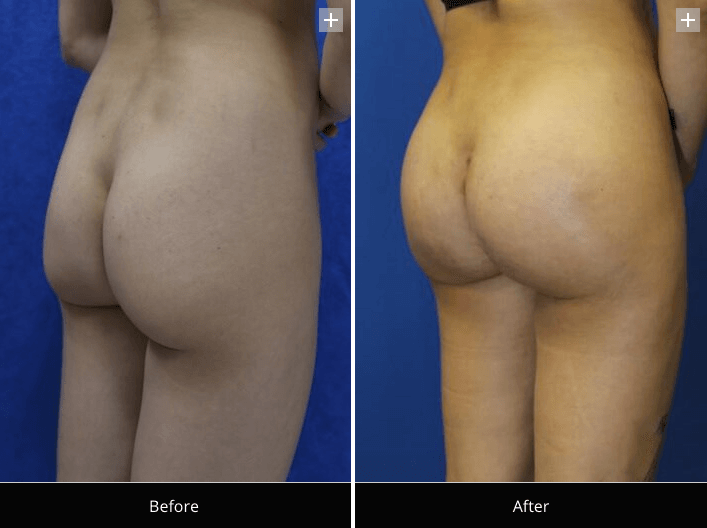 Are You a Candidate for BBL?
You may be a candidate for a BBL if your body has enough fat to complete the fat transfer process. Dr. Katzen will perform a physical exam and measure you to determine if a BBL is the best option. A BBL may not suit you if your body's fat percentage is too low or if you have a low body weight.
Dr. Katzen will also check your skin laxity. If you have sagging or loose skin due to extreme weight loss, Dr. Katzen may recommend a surgical butt lift instead. This is called a buttock lift, posterior body lift, or 360 circumferential body lift.
What are Silicone Buttock Implants?
Silicone buttock implants , or gluteoplasty, involves enhancing the appearance of the buttocks with implants rather than with the patient's fat tissue. This plastic surgery procedure is the best option for patients who are not candidates for Brazilian butt lifts. The result is similar for buttock implants and BBLs; a curvier, more contoured rear end.
If Dr. Katzen recommends silicone buttock implants, he will help you decide which implant size and shape to choose. Gluteoplasty procedures are performed on an outpatient basis under general anesthesia. To minimize and hide scarring, Dr. Katzen will make incisions along the natural fold of your backside before inserting the implants.
Silicone buttock implants offer natural-looking looking results for patients who are not ideal candidates for Brazilian butt lift procedures.
Are Buttock Implants Safe?
There are more risks with silicone buttock implants than with BBLs. Gluteoplasty is more invasive and involves larger incisions. Common surgical risks such as an allergic reaction, possible infection, implant rejection, and excess fluid are a concern. However, like a BBL, selecting an experienced, board-certified plastic surgeon minimizes those risks.
Dr. Katzen is highly trained in gluteoplasty implant placement, and his patients are thrilled with their results.
Are You a Candidate for Buttock Implants?
Often, men and women who are not candidates for BBLs are excellent candidates for silicone buttock implants. Dr. Katzen recommends patients be in good health with exceptional skin laxity.
You may be a good candidate for buttock implants if you desire a fuller, curvier backside. Many patients choose buttock implants after massive weight loss or as they age and experience the sagging that often accompanies getting older.
Recovery: BBL vs. Buttock Implants
Recovering from a Brazilian butt lift is similar to what you might experience with buttock implants. Both plastic surgery procedures result in some swelling, bruising, and discomfort. BBL patients also need to monitor fat extraction site incisions.
Dr. Katzen will recommend not sitting on your butt for two weeks following your silicone buttock implant procedure. If you are a candidate for BBL, Dr. Katzen will recommend a donut-shaped pillow to shift the pressure to your thighs while sitting.
Typically, patients return to their normal activities within two to three weeks. However, Dr. Katzen will advise against strenuous exercise for at least six weeks. Attending follow-up appointments will ensure you are healing well. Your final results will be visible in about four to six weeks.
How Long do BBL and Buttock Implant Results Last?
As with many plastic surgery procedures, your long-term results primarily depend on weight gain or loss. Dr. Katzen recommends patients be at a steady, stable weight, which will help them maintain their results as long as possible. Significant weight gain or loss will alter the appearance of the buttocks.
Generally, there is about 20% reabsorption of injected fat over 8-12 weeks. The rest of your transplanted fat could last you a lifetime. Your buttock implants are FDA-safe and FDA-approved. After the swelling subsides, your buttock implant results will show. They are designed to last forever, and your buttock implants do not need to be replaced.
Eating a healthy diet and regular exercise offers you the best chance of maintaining your results for both BBL and buttock implants.
Buttock Implants vs. Brazilian Butt Lift - Schedule Your Consultation
You may not be sure which butt enhancement surgery is right for you - a BBL or silicone buttock implants. However, this is not a decision to be made on your own. Dr. Katzen is currently scheduling patients interested in BBL and buttock implant procedures.
Dr. Katzen will discuss your options after measuring you and performing a physical exam. He will answer your questions and address concerns about either procedure. Dr. Katzen offers personalized treatment plans to all patients to ensure they achieve their desired results.
Dr. Katzen offers in-person and virtual consultations, depending on your preference. He can meet via FaceTime, Zoom, Skype, and WhatsApp. Dr. Katzen has locations in Beverly Hills, CA, Las Vegas, NV, and Dubai UAE.
To schedule your initial consultation, please call (310) 859-7770.