Should You Get a Mommy Makeover in Beverly Hills?
If you have finished childbearing and have tried diet and exercise to regain your pre-baby figure, but have not been successful, you should definitely consider a mommy makeover in Beverly Hills. Mommy makeover is the name given to a combination of major plastic surgery procedures that address a woman's post-birth body. These surgeries can be performed on anyone, but women who would like to look and feel as they did before they had children are the most popular candidates.
Click the number to Call 424-372-0541
The two main surgeries included in a mommy makeover are a tummy tuck, or abdominoplasty, and breast enhancement. Also included are fat removal with liposuction, skin tightening, stretch mark removal and cellulite treatments.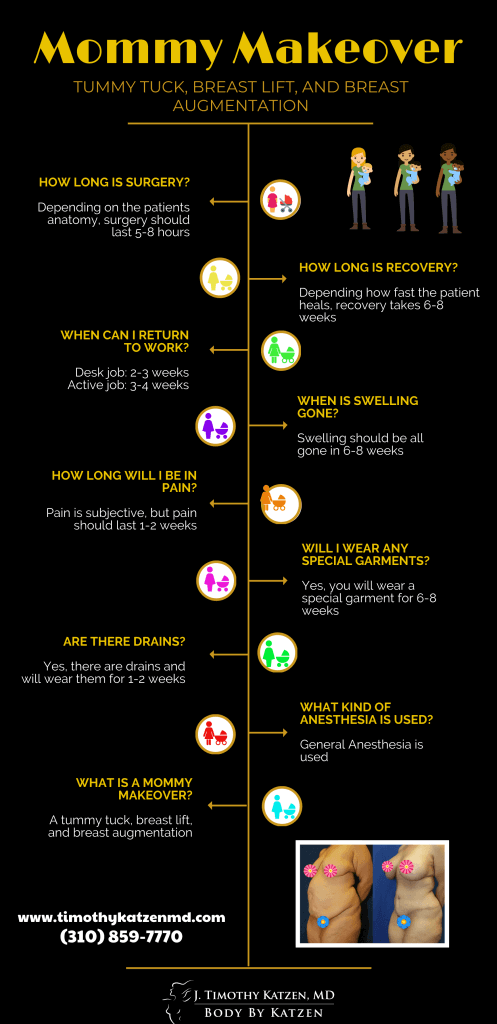 Tummy Tuck The shape and size of the abdomen changes during pregnancy and weight loss or gain. The abdomen is one of the most difficult places on the body to improve through exercise. A tummy tuck will restore the firmness to the abdomen and any excess skin will be removed. The tummy tuck may also remove some or all stretch marks. The abdominal skin and tissue are lifted and the abdominal muscles underneath are tightened. Then the skin is stretched over the flat tummy and excess skin is removed. There are several different types of tummy tuck including:? Full abdominoplasty? Belt lipectomy? Mini tummy tuck? Reverse tummy tuck If there are small pockets of fat that have not been eliminated through exercise, there fat pockets can be removed during the tummy tuck with liposuction.