The Importance of Silicone Removal From Lips
"Silicone injections are illegal, dangerous, and can cause severe pain, prolonged swelling, scarring, infection, deformity, and even death!" 
Do you regret getting raw silicone injected in your lips? 
Are you interested in removing the silicone from your lips? 
Are you worried about the life-threatening risks of silicone? 
Have you noticed swelling and lumps in the lips?
Silicone is used in the lips to enhance lip shape and projection. However, the injection of silicone is illegal and not FDA-approved. Silicone may lead to swelling, inflammation, pain, scar formation and poses life-threatening risks. 
What is Lip Enhancement?
Lip enhancement is a cosmetic procedure that gives you fuller, plumper lips. There are two options for lip enhancement: surgical and non-surgical. Surgical options include fat transfer or lip implants. Non-surgical options include FDA-approved dermal fillers, such as Restylane and Juvederm. Non-surgical options are temporary and will require re-injection every few months. 
Silicone is marketed as a permanent, non-surgical option. Silicone lip injections are illegal, dangerous, and risky.
Why is Silicone Dangerous? 
Injected silicone is illegal. The injection of liquid silicone is "off-label" for cosmetic purposes and is not FDA-approved. Silicone injections are performed by unqualified individuals. There are many risks associated with silicone. The body identifies silicone as a foreign substance, begins to attack it and develop scar tissue around the product, leading to inflammation, pain, and lumps. 
Why is Silicone Removal Essential?  
Silicone injection for lip enhancement is a cheap, but dangerous option that may cause severe health complications.  
Liquid silicone injection is NOT FDA-approved.  
Liquid silicone can trigger autoimmune reactions such as Hashimoto's Thyroiditis and Ulcerative Colitis.  
Initially, you will have soft, plump lips. With time, you may experience swelling, inflammation, and infection as scar tissue forms around the silicone, creating lumps. 
The lips may begin to look deformed.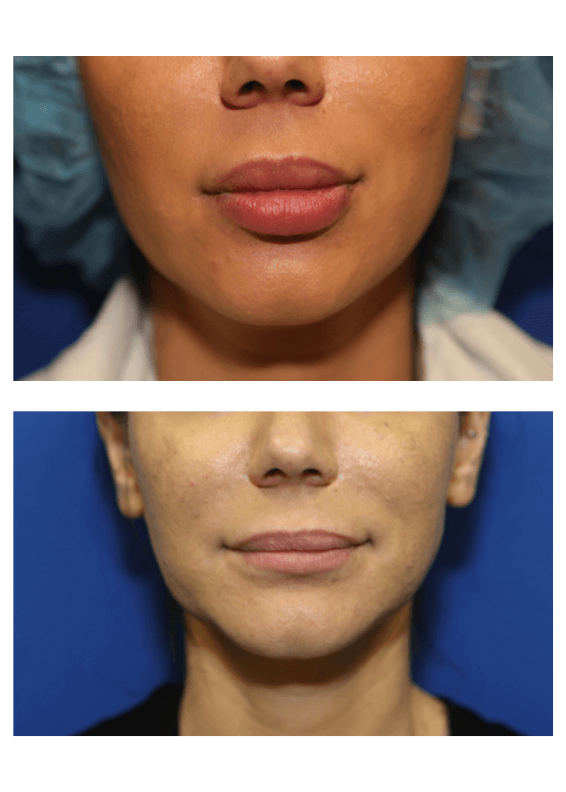 Call TODAY to schedule a consultation. For your convenience, Dr. Katzen has offices in Beverly Hills, CA, Las Vegas, NV, and Dubai, UAE. Physical or virtual consultations can be arranged. Virtual consultation options include FaceTime, Zoom, Skype, and WhatsApp. Call TODAY at (310) 859-7770 or email [email protected] to schedule your consultation and have the silicone removed from your lips.