Which Thigh Lift Is Right for You?
So, you're thinking about getting a thigh lift but don't know where to begin. Let me start by explaining what a thigh lift is and why you should consider getting one.
What Is a Thigh Lift?
A thigh lift is a surgical procedure that removes excess skin and fat from the inner thighs. A thigh lift may be indicated if your thighs have too much fat for liposuction alone. Sometimes, if you have thigh liposuction, the thigh fat is removed, but your leg skin does not contract, leaving you with loose thigh skin after your thigh liposuction procedure. The procedure is not just for patients who have undergone significant weight loss, but for anyone who wants to have tighter thighs without all that excess thigh skin and fat. Having a thigh lift can create a more youthful leg and give patients the thigh contour they seek.
Why Should I Consider a Thigh Lift?
If you have the following, you may want to consider a medial thigh lift.
Loose, flabby thigh skin
Chronic, inner thigh rashes
Chaffing while walking or running
Difficulties with intimacy due to the size of your thighs
Difficulty fitting into clothing because of your large thighs
You want better, more proportional, firmer thighs
Have undergone bariatric surgery
Have lost a significant amount of weight
With the natural aging process or after massive weight loss, your thigh skin loses its elasticity. Loss of thigh skin elasticity can cause the thighs to sag and skin creases to develop. These inner thigh skin wrinkles are very unappealing and can become very painful if thigh skin fold infections develop. Again, reconstructive plastic surgery to the rescue! Plastic surgery can eliminate these inner thigh skin folds and remove all that excess thigh skin and fat and eliminate those chronic skin infections. There are four types of thigh lifts that I perform: Crescent Thigh Lift, Longitudinal or Vertical Lift, Modified Medial Thigh Lift, and the Lateral Thigh Lift. The type of procedure you will require depends on your thigh objectives. In preparation for thigh surgery, you will need to have routine blood and urine tests. In addition, a chest X-ray and EKG will be ordered. If you are considering a thigh lift, you need to stop smoking since smoking impairs the healing process. Also, you will be asked to avoid taking aspirin, anti-inflammatory drugs, and herbal supplements as these medications act as blood thinners. Different Types of Thigh Lifts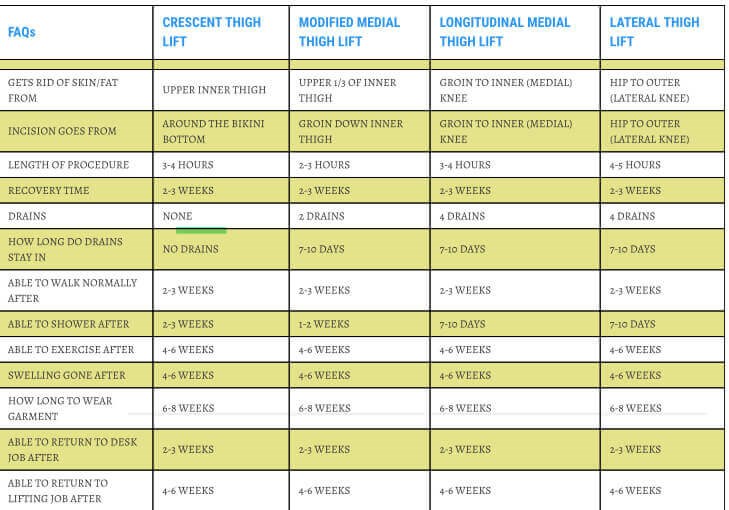 *Please note: every patient is different and heals differently, so results and recovery time will vary. Depending on the amount of your excess thigh skin and fat, I will create a personal surgical plan that will maximize your thigh objectives.
DISCLAIMER: The following video is graphic in nature. CLICK HERE to see Dr. Katzen performing a thigh lift. Results of a thigh lift vary from patient to patient. Results are visible almost immediately, but your final results may take several months to develop fully. There will be a thigh scar. However, with my surgical technique, silicone cream, and silicone gel sheeting will help to minimize the thigh scar. To obtain optimal thigh results, it is essential that you follow my post-op instructions. The cost for the procedure varies widely from city, plastic surgeon, and type of thigh lift required. Expenses will include fees for anesthesia, operating room, medical tests, post-surgery garments, prescriptions, and surgeon's fees. If you have any other questions or would like more information about crescent thigh lifts, modified medial thigh lifts, longitudinal or vertical thigh lifts, or lateral thigh lifts, please call my office. Sincerely, Dr. J. Timothy Katzen