Undergoing Morpheus8 to Melt at and Tone the Face, Neck, Abdomen, and More
Many of our patients have tried various techniques to melt stubborn fat and tone their abdomens, necks, and other parts of their bodies. Morpheus8 is a new technology that shows great promise and has yielded fantastic results for our patients.
Skin tightening with Morpheus8 works on the face and on the body. Here, we want to discuss what you can expect when you choose Morpheus8 to melt fat and tone the body.
What is Morpheus8?
Morpheus8 is a non-surgical, minimally-invasive, full-body, skin-tightening, and fat reduction technique. Some compare it to microneedling, but there are differences between the two. With Morpheus8, the needles penetrate the skin deeper than microneedling.
Using fractional radiofrequency (RF) energy, Morpheus8 triggers the body's natural healing response, which results in tighter, more toned skin. In addition, the Morpheus8 device is FDA approved as a Subdermal Adipose Remodeling Device (SARD). It is the only device on the market that has been proven to melt away fat in delicate areas of the body.
How Does Morpheus8 Work for Melting Fat and Toning the Body?
Morpheus8 works by using targeted RF to trigger the body to produce more collagen and elastin. This results in fat reduction and plumper, firmer, and more toned skin.
Most often, Morpheus8 is used on the face to improve the appearance of fine lines, wrinkles, and acne scars. However, it may also be used to target cellulite and eliminate stubborn fat cells all over the body. It is an excellent body remodeling option for patients who want to avoid expensive, invasive, and painful surgery.
What is Body Remodeling with Morpheus8 Like?
Patients undergoing Morpheus8 will receive their treatment in Dr. Katzen's office. There is no need to stay overnight at the hospital.
During Morpheus8 treatment, a local anesthetic or topical numbing cream is applied to the area of the body that is being treated. Then, the Morpheus8 device is used to target stubborn fat cells. Dr. Katzen or a member of his team will talk with you prior to starting your treatment to determine the areas of concern and the correct depth for your procedure.
Microneedling only targets the skin up to 2 millimeters. Morpheus8 can target the deep dermis and subcutaneous fat to 8 millimeters. This allows deeper fat contouring and body remodeling, which produces excellent results.
The entire treatment takes between 30 and 60 minutes, depending on the patient's individual needs and the areas of the body receiving treatment.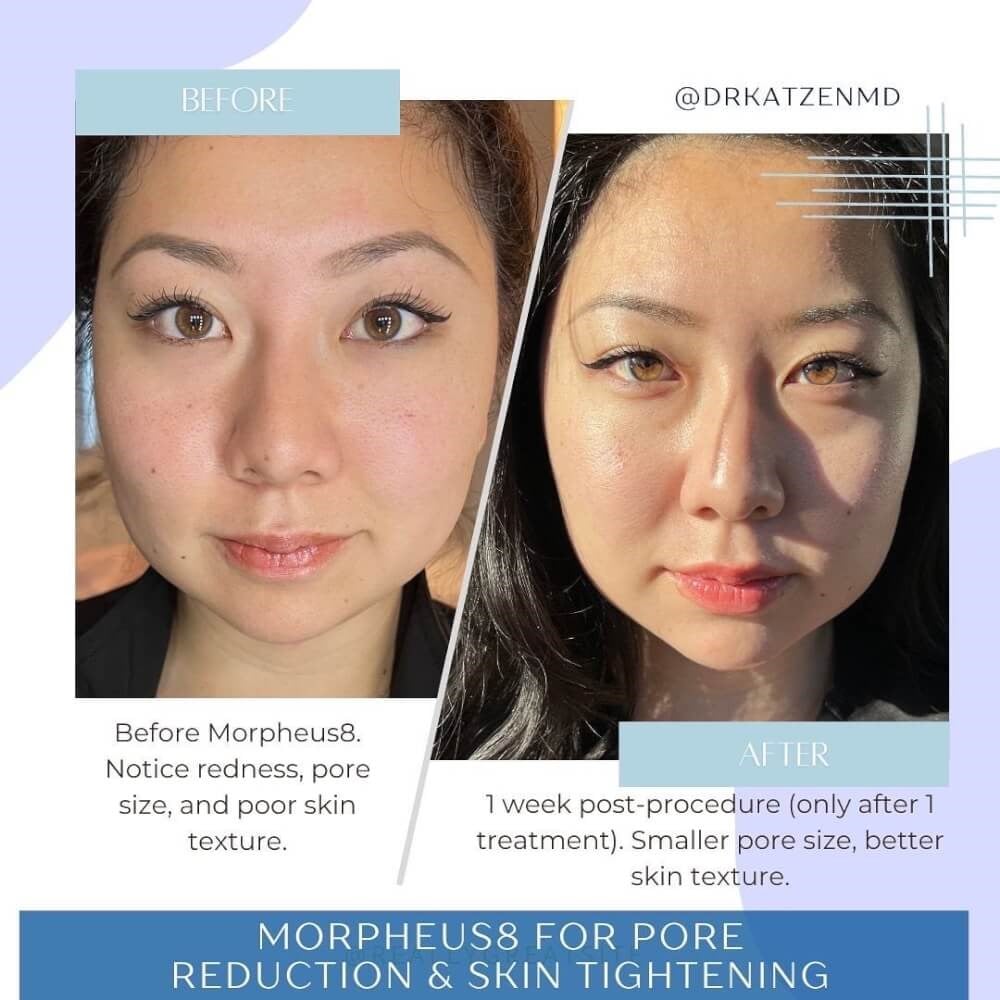 What to Expect After Treatment with Morpheus8
After your Morpheus8 treatment, you should not need any downtime to recover. Dr. Katzen will instruct you to avoid exercise or strenuous activities for the next 24 hours to give your body time to heal. He will advise you to use a gentle soap in the shower and moisturize the area as needed.
Depending on your individual needs, Dr. Katzen may prescribe a healing cream or pain medication. You should only experience mild discomfort, and only for a few days.
You may begin to notice results from your Morpheus8 treatment in as little as three days. More noticeable results will be visible within 30 days, and fat reduction and toning will continue for the next six months.
What are the Benefits of Morpheus8 for the Body?
Morpheus8 has many benefits for patients seeking to melt fat and tone the body. This revolutionary technology:
Evens out the skin's texture

Reduces cellulite

Tightens and tones the skin

Eliminates stubborn fat

Fades stretch marks

Improves the appearance of acne and surgical scars
What Areas of the Body Can be Treated with Morpheus8?
Morpheus8 may be used on virtually any area of the body. At Body by Katzen, we recommend Morpheus8 for patients interested in melting fat and toning the:
Is there an area of your body that concerns you? Talk with Dr. Katzen to find out if Morpheus8 is the right solution for you.
Frequently Asked Questions
How much does Morpheus8 cost?
The price of Morpheus8 treatment varies depending on the number of areas of the body being treated. Also, every one of our patients is an individual with their own needs, which can affect the cost as well.
Dr. Katzen offers flexible cash prices and credit payment options for Morpheus8 treatments to make them more affordable. He will discuss the cost with you prior to treatment.
Does Morpheus8 work on cellulite?
Morpheus8 has proven to be very effective in treating cellulite. The device can be adjusted to target even deeper layers of fat, up to 8 millimeters deep.
Does Morpheus8 offer permanent results?
Morpheus8's results are permanent. Typically, the best results are seen after three treatments, which may be scheduled four to six weeks apart.
Following the first three treatments, many of our clients return for maintenance sessions every one to two years.
Does Morpheus8 have side effects?
One of the best parts about Morpheus8 is that it has minimal side effects. Patients may experience some swelling, bleeding, bruising, and redness within the first 24-72 hours. However, those "side effects" should resolve quickly.
Contact Body by Katzen to Schedule Your Morpheus8 Treatment Today
Do you have areas of stubborn fat on your body, or areas that you wish were more toned? Perhaps you have tried other body remodeling techniques, but they have not worked for you. If that is the case, Dr. Katzen highly recommends Morpheus8. So many of our patients have seen excellent results, and we are confident that you will as well.
Currently, Dr. Katzen is scheduling consultations for patients who are interested in melting fat and toning their bodies with Morpheus8. This innovative technology is available at his offices in Beverly Hills, CA, Las Vegas, NV, and Dubai UAE. He offers in-office and virtual consultations via Skype, FaceTime, Zoom, and WhatsApp.
Ready to schedule your appointment? Please call Body by Katzen at (310) 859-7770 today.