Vaser Hi-Def – The Top 10 Questions Answered
Vaser High Definition surgery is a specialized body sculpting and fat removal technique that can be applied to several body parts. Also known as Vaser Hi-Def, it is suitable for both men and women. In this precise treatment, only the fat that is present right above the muscles is targeted. If you want to get a well-sculpted, more refined figure, then Vaser Hi-Def with Dr. J. Timothy Katzen may be the right option for you.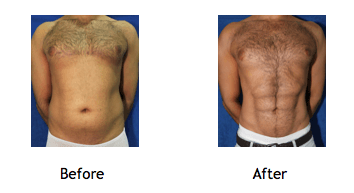 While the internet is a great resource for educating yourself, it comes with the risk of overly dramatic, incorrect, or misleading information. This is why we have made a listed of the top 10 questions that most people have regarding Vaser Hi-Def so that you can get the right information directly from the plastic surgery industry expert, namely Dr. Katzen. It is also sometimes overwhelming and confusing to decipher and determine the relevant information from the various plastic surgery websites that talk about the various new and old procedures and technologies. So I have made it easy for you to find all you need to know about Vaser Hi-Def in one place.
The Top 10 Vaser Hi-Def Questions
What is Vaser Hi-Def?

Vaser Hi-Def is an advanced type of liposuction. It is also called Vaser liposculpture. It is very precise in removing fat from certain areas of your body, including the abdomen, male chest, flanks, arms, and legs. After the fat removal, your underlying muscles are exposed so that you can get a defined, highlighted, chiseled athletic appearance. Dr. Katzen works both in the deep and superficial fat layers so that true underlying muscles show through.


Who can be a good candidate for Vaser Hi-Def?

The best candidate for this procedure is a person who regularly works out at the gym (between 4 to 6 days a week), consumes a healthy diet, and leads an active lifestyle. Those who are close to achieving their weight goals, but are unable to get as lean as they want to be may consider this procedure.


Where can I get Vaser Hi-Def done?

Award-winning and plastic surgeon Dr. J. Timothy Katzen offers Vaser Hi-Def and other aesthetic procedures at his facilities in Beverly Hills, CA and Las Vegas, NV. His experience of more than 20 years and exceptional services make him one of the most experienced plastic surgeons in the US who perform Vaser Hi-Def.


Why is VASER Hi-Def expensive?

The reasons behind this are:
- The procedure requires expensive special equipment.
- The surgeon who is performing this procedure needs to obtain extensive experience and training before offering it.
- Since precise fat has to be removed and other sculpting techniques have to be utilized as well, this surgery is longer than the standard lipo and can take up to 7 hours.


How long do the results of VASER Hi-Def last?

As long as you maintain a healthy and active lifestyle, your results will last. Even if you gain between 5 to 10 pounds, the chiseled Vaser results should still be visible. However, if you gain more weight than that, your definition would be lost. So, it is best to continue to watch what you eat and exercise after your Vaser Hi-Def procedure.


How long does the VASER Hi Def recovery take?

Patients must take their plastic surgeon's recovery instructions seriously. Dr. Katzen recommends the patients to discontinue work for about 7 days, and do only light activity during the first two weeks post-op. After the surgery, most patients will be placed in a special foam garment that has to be worn 24/7 during the first three weeks.


Why is massage therapy after VASER Hi-Def a good idea?

Dr. Katzen highly recommends post-op massage therapy after the first few weeks to accelerate the recovery process as well as enhance the overall appearance of the result. Massage helps to reduce swelling, and eliminate excess fluid, edema, and induration.


Does VASER Hi-Def hurt?

Since it is a sculpting procedure, you can expect some discomfort during the first couple of days post-op. You may be sore and experience numbness. This should not be a big deal because the pain medications, as well as massage, will ease the pain.


Will I see the VASER Hi Def results right away?

You have to be patient throughout the recovery process. Even though you will be experiencing swelling in the first 3-4 weeks post-op, you will be able to notice an immediate change. The final or the most dramatic result can be observed 4-6 months after the surgery. Since Vaser Liposuction is more aggressive than traditional liposuction, this is the time needed for your body to heal completely and the swelling to fully disappear.


Is VASER Hi-Def an option for men and women?

Yes, both men and women can experience amazing results from this procedure. Dr. Katzen understands the differences in the desired male and female physique, so he targets the different areas of the patient's accordingly. You as a patient also pay a significant role in how much definition you desire to your abdomen. When you meet with Dr. Katzen, you and he will decide how much definition you want.
Want to learn more?
Have questions? Want to schedule a consultation?
plastic surgeon Dr. Timothy Katzen is one of the most well-known and well-respected surgeons in Las Vegas and Beverly Hills. His vast experience in aesthetic and reconstructive plastic surgery means that he is more than qualified to perform your Vaser Hi-Def liposuction. Read more about him here or schedule a consultation today!