What Is the Importance of Non-surgical Lip Augmentation
"Get alluring, plumper, and attractive lip contour with safe, FDA-approved injectable lip fillers!"
Do you want to get plumper lips without surgery?
Do you want to achieve silkier, smoother, and natural-looking lips?
Do you want to erase lip lines?
Usually, if you wish to have a lip augmentation procedure, you should consider, first, non-surgical options. Non-surgical lip augmentation is ideal because these lip injections are fast, safe, deliver immediate results, and are less expensive than surgery. It will be important for you to follow your plastic surgeon's advice and all instructions during pre-and-post lip enhancement procedures. Dr. Timothy Katzen, M.D., has global fame and recognition in lip augmentation procedures. Many patients/clients from across the globe come to Beverly Hills, CA, to undergo non-surgical lip augmentation.
Recently, a 20 years old female received Restylane lip fillers with Dr. Timothy Katzen. She desires a fuller, plumper, and more youthful lip appearance.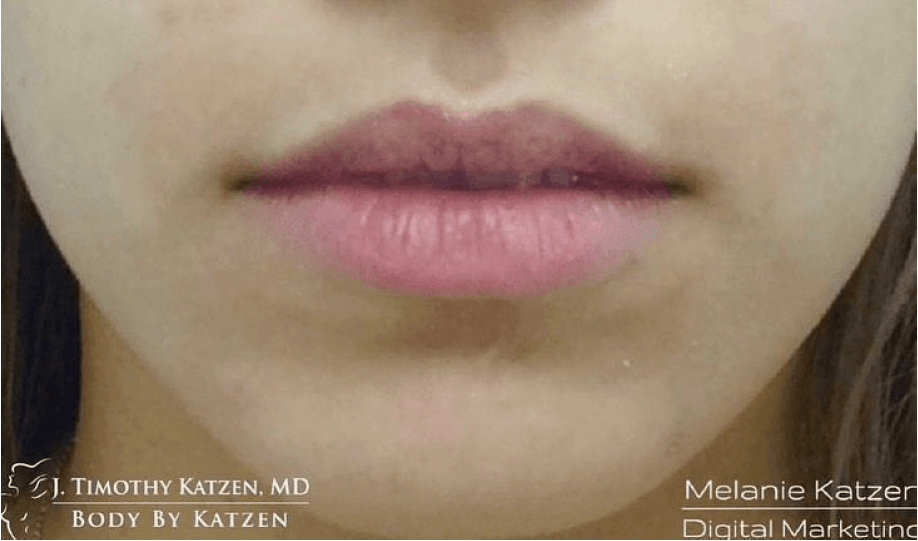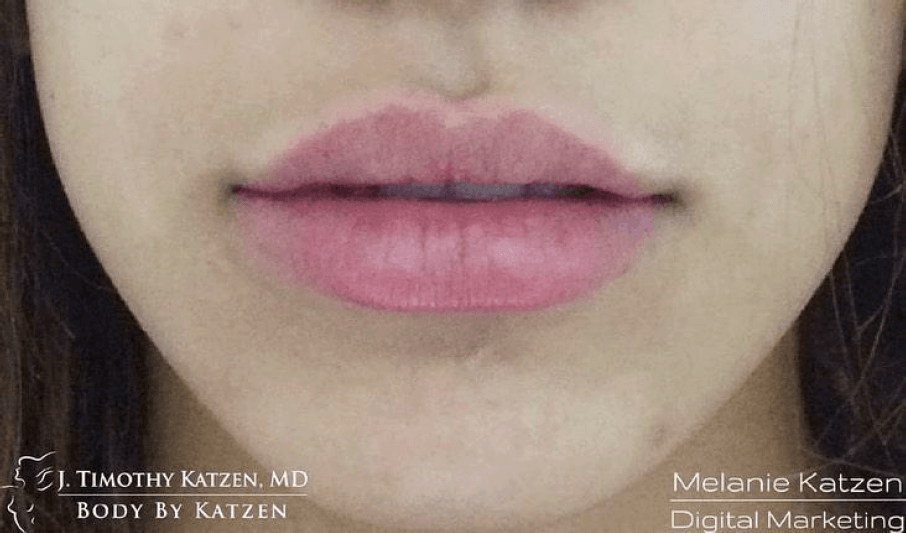 Image description: "This 20-year-old female patient desired fuller lips. So, Dr. Katzen used Restylane filler to achieve plump lip augmentation. Restylane is FDA-approved filler approved for lips. Restylane is an excellent way to correct deep nasolabial folds and augment lips (cheeks and chin regions). The patient is very pleased with her results!"
What is non-surgical lip augmentation?
Lip augmentation is a cosmetic procedure that improves your lips' volume, shape, and appearance. Lip augmentation can be either surgical or non-surgical. The non-surgical method uses injectable dermal fillers to plump the lips. Restylane lip fillers are one such example. Non-surgical is an ideal way to control the lips' volume, shape, or contour.
J. Timothy Katzen, M.D., Beverly Hills, CA, and Las Vegas, NV, has expertise in performing surgical and non-surgical lip augmentation and happily satisfied many clients/patients across the globe.
The properties of Restylane Lip fillers are as follows:
Restylane silk was the first lip filler approved by FDA.
Restylane filler can give you silkier, smoother, and natural-looking lips.
Restylane can give you dual benefits: creating lip fullness and smoothing lip lines.
Restylane contains hyaluronic acid to increase the fullness of the lips.
Restylane is fully reversible with hyaluronidase injections.
What are the options for non-surgical lip augmentation?
Two main options for performing non-surgical lip augmentation are Juvederm and Restylane. Both lip fillers are approved by the U.S. Food and Drug Administration (FDA). Both lip fillers give you the desired augmentation result, but you and your plastic surgeon will decide which one would be the best. An introductory consultation is mandatory before planning or undergoing a lip enhancement procedure.
Dermal fillers are off-limits and countra-indicated for pregnant women. Due to safety concerns, your plastic surgeon will evaluate your present health status during the consultation and plan your lip augmentation to meet the desired outcomes accordingly.
What is the importance of non-surgical lip augmentation?
If you are unsure about permanent implants, lip fillers are the best option: In regards to lip augmentation, everyone has different goals. Some patients want controllable, temporary lip augmentation. For these patients, non-surgical lip fillers are ideal. On the other hand, some patients desire permanent lip augmentation and cannot undergo yearly lip fillers. These patients are best suited with lip implants.
Lip filler injections are a non-invasive procedure: The most significant benefit of non-surgical lip augmentation is minimally invasive and requires barely any downtime. The whole procedure is done within minutes at your plastic surgeon's office. In addition, it is an outpatient procedure and considered a safe and immediate solution to achieve aesthetic lips.
The results are immediate and take a shorter time: Lip augmentation with fillers gives you immediate results. One can enjoy the result of fuller and plumper lips within minutes and can go back to work after the procedure. Non-surgical lip augmentation is also called a lunchtime procedure.
The reversible results of non-surgical lip enhancement are a great benefit: Results of non-surgical lip augmentation are temporary. The gel solution gradually absorbs into the body over time. Lip filler can last eight to ten months. As a result, your lips will eventually retain their original size. However, one can constantly inject more fillers to improve your lips' size, shape, or contour. Lip filler injections can be reversible if you are not happy with the volume or shape.
Conclusion:
Lip augmentation improves the appearance of your lips. Lip filler augmentation options include surgical and non-surgical lip augmentation. Surgical lip augmentation options include permanent lip implants, like Permalip. Non-surgical lip augmentation options include Restylane and Juvederm.
Call TODAY to schedule a lip augmentation consultation. For your convenience, Dr. Katzen has offices in Beverly Hills, CA, Las Vegas, NV, and Dubai, UAE. Physical or virtual consultations can be arranged. Virtual consultation options include FaceTime, Zoom, Skype, and WhatsApp. Call TODAY at (310) 859-7770 or email [email protected] to schedule your consultation and achieve your dream lips.