What Men Should Know Before They Get Gynecomastia Surgery
Some men may have breasts that are more enlarged than usual. Breasts may make some men feel ashamed or insecure about their bodies as it may make their chest look feminine. This condition is called gynecomastia and affects an estimated 65% of men aged between 27 and 92, according to a study by NIH. Gynecomastia can affect both adolescents and adults, although the causes may differ.
Understanding Gynecomastia
Gynecomastia is a condition in which the male breast tissue becomes enlarged.
Scientists believe that the most common cause of gynecomastia is an imbalance between testosterone and estrogen hormones. Testosterone is the hormone that controls the male traits, for instance, body hair and muscle mass. Estrogen is the hormone responsible for the female characteristics, such as breast growth. The common causes of gynecomastia include puberty, excess weight gain, use of marijuana, and the use of anabolic steroids in bodybuilders. Several medications may also lead to male breast enlargement.
During puberty, surges in hormones can cause the male breast tissue to grow. In several cases, particularly in pubertal males, gynecomastia may go away on its own within six months.
However, in other cases, the breasts remain enlarged. Asymptomatic gynecomastia is very common and can be seen in:
60-90% of children
50-60% of adolescents
Up to 70% in men between the ages of 50-69 years.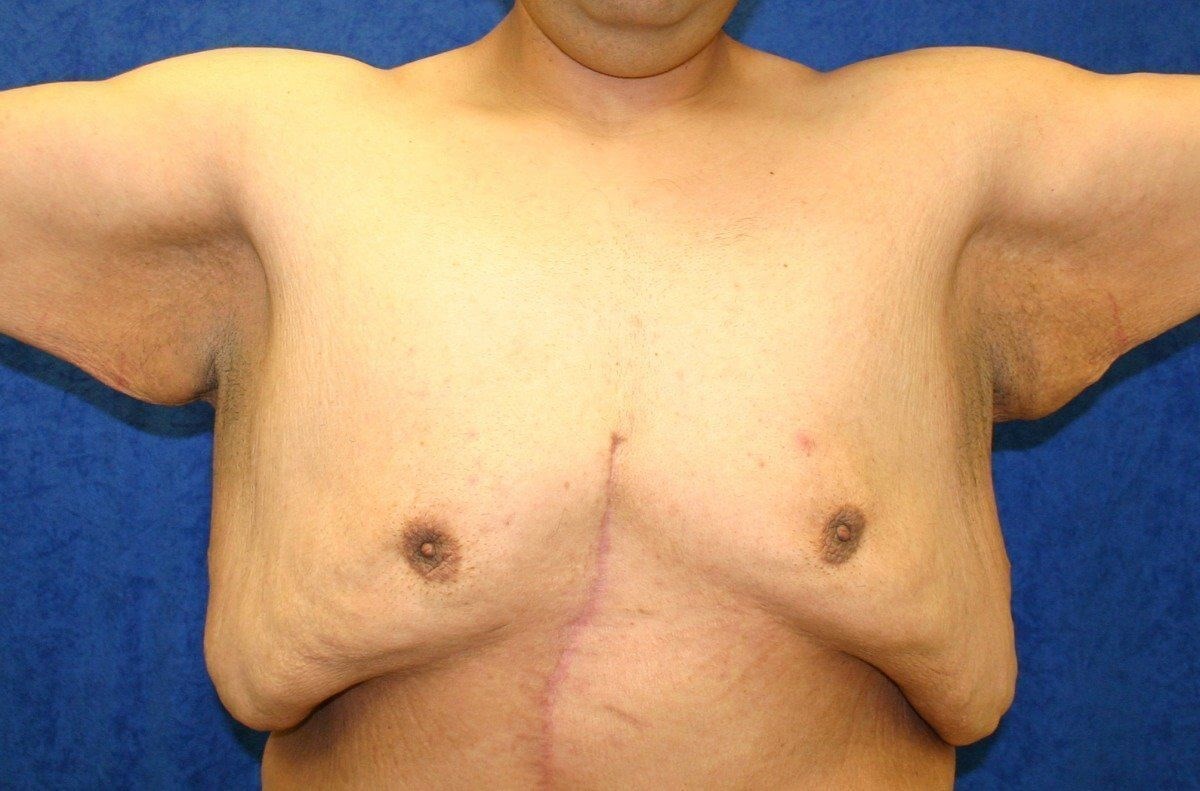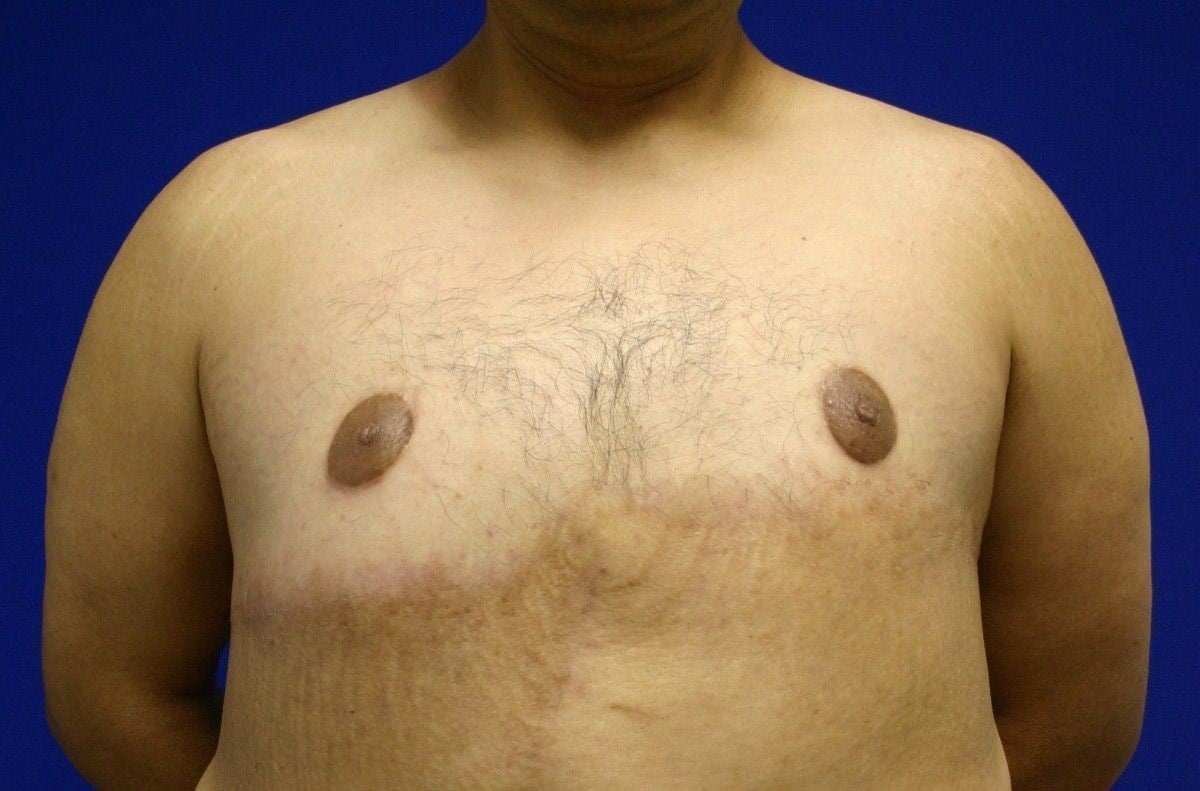 How to Know If You Have Gynecomastia
Generally, gynecomastia occurs in both breasts. However, patients can also have unilateral or asymmetric breasts. Dr. Katzen does a thorough examination of your breast to determine the problem and confirm gynecomastia after ruling out male breast cancer. Try not to worry— male breast is very rare. Then, Dr. Katzen will advise you on the best course of action. Surgical options include liposuction and surgical excision.
Gynecomastia Correction Surgery
Patients who come to Dr. Katzen with gynecomastia typically report lumps present in their breasts with or without the presence of excess breast fat. The surgery that is performed by Dr. Katzen to remove the breast tissues generally involves the liposuction of the excess fat. Sometimes, to remove small amounts of tissue, Dr. Katzen makes an incision in the margin of the nipple-areolar complex. In cases of very large male breasts, a skin excision is made to remove the excess glandular breast tissue.
Dr. Katzen will advise you on how to get prepared for your male breast reduction surgery. You will have to stop smoking, discontinue any medications that increase the risk of bleeding, and enhance your nutrition for better recovery and healing after the surgery.
Like the majority of other plastic surgeons, Dr. Katzen performs this surgery under general anesthesia. To decrease the likelihood of fluid collections, Dr. Katzen may use drains after surgery. Dr. Katzen will place you in a compression vest to reduce swelling, control pain, and decrease bruising.
Usually, the recovery is straightforward. If you only require liposuction to correct your enlarged male breasts, you will be able to resume work and light exercise within a week. On the other hand, if you require surgical removal of your excess breast tissue, you may need about 2 weeks to heal. In Dr. Katzen's practice, most of his patients are able to return to work after surgery in between 7 to 10 days. Most patients are able to resume cardio at two weeks and weightlifting at four weeks (provided that there are no post-operation complications).
Are There Any Possible Complications?
While male breast surgery is safe, as with any other surgery, complications can happen despite the highest level of attention to safety. The common complications are bleeding, bruising, contour irregularities, bruising, visible scarring, loss of nipple skin, inverted nipples, numbness of the nipples, asymmetries, and loose breast skin. To minimize the likelihood of complications, Dr. Katzen pays focused and careful attention to meticulous surgical technique. He also emphasizes on pre-, peri- and postoperative management to ensure positive outcomes. However, optimal healing is a partnership between you as the patient and Dr. Katzen. Therefore, it is crucial to follow his post operative instructions.
Want to Get Help?
If you think you have gynecomastia, there's nothing to worry about because Dr. Katzen is here to help you! Visit Body by Katzen today and discuss the treatment options with plastic surgeon, Dr. John Timothy Katzen. With over 20 years of experience in plastic surgery, Dr. Katzen is highly-skilled, puts you at ease, responds to all your queries and concerns with admirable patience, and delivers the highest quality services. Schedule your private consultation with him today.
For more information about our male breast reduction procedures, please call our office at 310-859-7770. You can also schedule a consultation with us online today!