What to Look for in a Plastic Surgeon in Las Vegas
You are interested in getting plastic surgery in Las Vegas. While some may think this is to be a little dramatic, you realize the many benefits that come with looking and feeling your best. But before you can move forward with your plans, you must figure out which plastic surgeon in the Las Vegas area is the best physician for the job. Look no further than Dr. Katzen!
Click the number to Call 424-372-0541
The Search for the Right Plastic Surgeon When it comes to finding the right plastic surgeon for your plastic surgery procedure, it seems to stand to reason that you want to work with a physician who has performed your procedure of choice many times. The thought of being some doctor's guinea pig as they learn a new procedure is not your idea of the right surgeon for the job. Someone who knows how to work on the face and body and who has a genuine eye for aesthetic appeal is exactly the kind of surgeon you are looking for. In fact, you likely want to see before and after pictures for the thousands of past patients. Dr. Katzen is always proud to show off the work that he has done.
Work with a Plastic Surgeon When it comes down to the level of expertise, hands down, a plastic surgeon is the best option for any patient who plans to get work done. Keep in mind that a physician might be but their board certification may be in something other than plastic surgery. So, do not be fooled by a generic physician who does a little cosmetic surgery on the side for extra income. You should be happy to know that Dr. Katzen is by the American Board of Plastic Surgery. He is also a member of many different professional associations related to plastic surgery. For this and many other reasons, he is the go-to plastic surgeon in Las Vegas, Beverly Hills, and surrounding areas.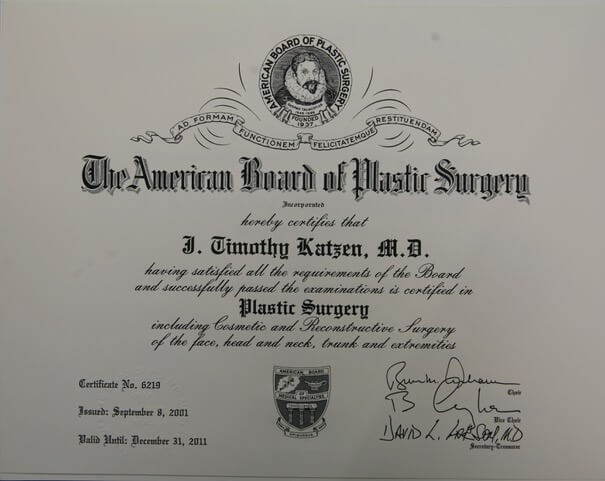 When it comes to how good a plastic surgeon is with patients, you really should pay attention to the level of customer service. It is the little details that often matter the most. When you are working with a qualified plastic surgeon like Dr. Katzen, it will shine through in just about everything that he does. J. Timothy Katzen, MD, has office locations in Las Vegas and Beverly Hills. Contact us today to schedule a plastic surgery consultation!