When Can I Sit On My Butt After Brazilian Butt Lift Surgery?
With the undeniable popularity of a curvier figure, more and more patients are turning to Brazilian butt lift surgery to achieve their ideal shape. While the results of BBL surgery can be stunning, patients must adhere to their postoperative guidelines closely to ensure the best possible outcome. In addition, certain behaviors – like sitting or lying on your buttocks too soon after BBL surgery – can dramatically compromise your final look. At J. Timothy Katzen, M.D. Las Vegas internationally recognized plastic surgeon Dr. J. Timothy Katzen helps patients enhance their natural curves with Brazilian butt lift surgery. In this blog, we'll explore the basics of BBL and discuss when it may be safe and appropriate to resume your normal activities – including sitting on your backside – after a BBL.
How does BBL surgery work?
The Brazilian butt lift is a popular body contouring procedure that utilizes liposuction to remove unwanted fat from one area of the patient's body and a fat transfer technique to enhance the shape and volume of the buttocks. A BBL is performed under general anesthesia.First, Dr. Katzen harvests excess fat from one or more donor sites on the patient's body. These may include:
Abdomen
Hips
Flanks
Thighs
Lower back
Then the fat is purified and prepared for injection via syringe. Dr. Katzen injects thin, even layers of fat into the buttocks using extreme precision, skill, and artistry. Manual massage between each delicate layer helps to ensure a smooth, natural-looking result. Because there are no synthetic fillers or implants involved in Brazilian butt lift surgery, the risk of allergic reaction or tissue rejection is low.
What can you expect during recovery from a BBL?
When preparing for BBL surgery and recovery, patients should remember that there are two sites – the buttocks and the area where liposuction was performed – that will need to heal. Compression garments should be worn around the clock to control swelling at the liposuction sites, and the liposuction incisions should be kept clean and dry. Perhaps the most important thing to do for the buttocks is to minimize any direct pressure on the area. It is essential not to sit or lie on their buttocks following a BBL.
Why can't I sit on my butt after a BBL?
Once fat cells have been transferred to the buttocks, they'll need to establish a blood supply to remain viable. Putting pressure on the buttocks can interfere with this process and destroy the newly transferred fat cells, significantly impacting the patient's expected outcome.
How long until I can sit down after a BBL?
In most cases, patients should avoid sitting, lying, or placing direct pressure on the buttocks for at least two weeks following BBL surgery. Loose-fitting clothing should also be worn to minimize pressure on the buttocks further. Once Dr. Katzen has cleared you to begin sitting on the buttocks again, it may still be necessary to modify your sitting position and use a donut-shaped pillow to transfer the bulk of the pressure to the thighs rather than the butt. In addition, patients should take great care while driving to reduce pressure on the buttocks.
Once healing and recovery are complete, which can take up to six weeks or longer, patients will begin to notice their new curves taking shape. With a stable weight and healthy habits, the results of BBL surgery can last for years.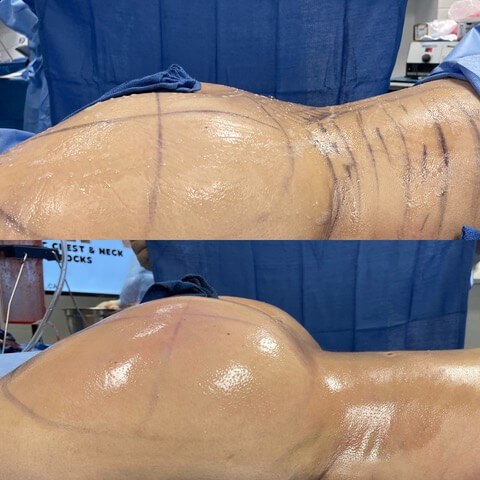 Look at these instant Brazilian Butt Lift results!! This 35-year-old female patient had two pregnancies. She was ready to remove her excess fat in the abdomen and lower back and have it transferred to her buttocks. She underwent a Brazilian Butt Lift or #BBL procedure. She is excited to show off her new body just in time for Summer.
Procedure: 360 Liposuction BBL
Procedure time: 2+ hours depending on the area of liposuction.
Form of anesthesia: General anesthesia
Drains: None
Recovery to return to sitting type job: 2-3 weeks
Recovery to return to very active type job: 2-3 weeks
Return to limited activity: 2-3 weeks
Return to full activity: 3-4 weeks
Cost: depends on your plastic surgeon
Take your look to the next level with a Brazilian butt lift in Las Vegas, NV.
If you are unsatisfied with your flat or deflated butt and have not been able to achieve your desired curves through diet and exercise alone, you may be a candidate for Brazilian butt lift surgery. To learn more about this exciting and transformative procedure, call J. Timothy Katzen, M.D. Las Vegas today to schedule your private consultation with top Las Vegas plastic surgeon Dr. J. Timothy Katzen.
Call to schedule a consultation. For your convenience, Dr. Katzen has offices in Beverly Hills, CA, Las Vegas, NV, and Dubai, UAE. In addition, physical or virtual consultations can be arranged. Virtual consultation options include FaceTime, Zoom, Skype, and WhatsApp. Call (702) 280-1906 today to schedule your consultation to get the butt of your dreams.