Your Facelift Questions Answered
Are you someone who is looking for a way to look better as you age? Or are you someone who is struggling through a weight loss journey and looking for a way to get rid of that stubborn fat on different parts of your body, particularly your face?
A facelift may be the answer to all your problems!
A facelift is also known as rhytidectomy. A facelift is a procedure in cosmetic surgery that rejuvenates and reshapes the face by lifting the face and removing excess facial skin. A facelift gives you a more youthful appearance by tightening loose, hanging skin around your jawline (also called "jowls").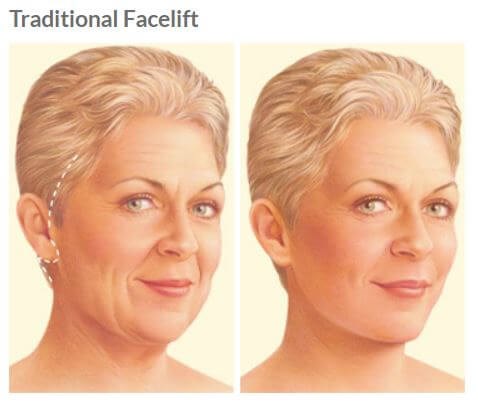 Which areas of my face can be improved through a facelift?

While it depends on what your concerns and goals for the facelift surgery are, the areas that can be improved include:

The wrinkles and lines near your eyes
The mid-face and the cheeks
The lower part of your face, including your mouth and jowls
The neck

What are the common facelift options?

Full Facelift -As the name suggests, this facelift addresses the whole face, starting from below the hairline through the area near the temples to the base of the ears. The droopy features are corrected, and the excessive, loose skin is removed by safely pulling and tightening the underlying facial tissues and muscles.

A full facelift is ideal for those with visible signs of advanced aging. It can be combined with several facial rejuvenation methods such as blepharoplasty (which can enhance the eye area) or a neck lift which can enhance the lower facial region.

Mini Facelift

The mini facelift lifts the skin near the ear region to enhance the mouth, jowls, and jawline. It creates a soft, natural look by making subtle improvements.

Mid-Facelift

The mid-facelift is similar to mini-facelift as it concentrates on the hollow areas near the cheekbones and the upper jaw. It is ideal for those who want to improve the appearance of the lower two-thirds of their faces, including the jowls.

Lower Facelift

The lower facelift focuses on the chin area, neck, and jowls to give you a tighter, younger-looking neck.

Surgical or nonsurgical?

There are several nonsurgical skin tightening procedures available, but they can only give you mild improvements, and work only if you have mild skin sagging. These include Botox, fillers, and laser skin resurfacing.

Usually, a surgical facelift gets you better and long-lasting results than a non-surgical facelift. A surgical facelift is also the right choice if you have moderate to severe skin sagging. You can also use some non-invasive methods like Botox and fillers to complement and enhance a surgical facelift.

Which factors will influence the choice of the technique?

Your goals
The condition of your skin
Skin laxity
Anatomy
Lifestyle
Age

Who are the ideal candidates for a facelift?

Men and women who:

want to get rid of wrinkles, lines, and drooping skin on their faces
are in good physical health
don't smoke
have realistic expectations regarding the outcomes

Does facelift surgery have any advantage over the other options?

While injectable wrinkle relaxers and fillers have gained much popularity in recent years, they are only useful for removing the early signs of aging, and the results are temporary.

In contrast, facelift surgery has the advantages of producing longer-lasting, and more dramatic results. A surgical facelift is more effective for patients who need a moderate to high level of skin correction.

What about the recovery?

You will need some downtime after the facelift surgery, so it is wise to take it easy and have someone around to assist you with daily activities. Your stitches will be removed after the first week, and most people recover in ten days. After two weeks, the majority of the patients feel that they can return to work and other daily activities.

You can make the recovery process quicker by strictly following Dr. Katzen's post-op guidelines, getting a good rest, and consuming healthy food.

Why should I go for a facelift?

As long as your general health is good, there is no cut-off age for getting a facelift.

If you feel that your sagging skin or the presence of deep creases, lines, and wrinkles is affecting your confidence.
If you are not happy with how your face or neck looks.
If you have tried the minimally invasive treatments, but they didn't give you the results that you wanted.

What are the pros of facelift surgery?

You have your loose skin on the face and neck muscles corrected and achieve a natural, soft and youthful look. This may increase your self-confidence, may make you happier and may also help you become successful in your relationships. With a beautiful face, life seems better, and the days brighter!

What are the cons of facelift surgery?

In general, cosmetic procedures are safe, provided that they are performed by experienced, qualified plastic surgeons. A facelift surgery rarely leads to complications. Nevertheless, like any other surgery, facelifts carry associated risks including infection, scarring, bleeding, and bruising.

How should I determine the right facelift for myself?

There are many options available for you to consider. To determine which cosmetic facial surgery procedure and combination will work perfectly for you, you should consult an experienced, plastic surgeon like Dr. Timothy Katzen in Beverly Hills, CA, who has over twenty years of experience in this field.

How long will facelift results last?

It is impossible for your plastic surgeon to guarantee the exact length of time that the results will last, but facelift results typically last many years before a touch-up is required.

If you want to enjoy prolonged results, you should avoid the sun, use sunscreen, consume a healthy diet, and use only the skincare products that your skincare professional has recommended you.

What should I look for in a plastic surgeon?

Board certification in Plastic Surgery by the American Board of Plastic Surgery.
Extensive experience in performing plastic surgeries, including eyelid surgery and facelift.
The ability to make you feel comfortable, satisfied, and be able to address your concerns and questions properly.
Are you looking for a plastic surgeon?
plastic surgeon, J. Timothy Katzen, MD is one of the most well-known and well-respected surgeons in both Las Vegas, NV, and Beverly Hills, CA areas. His vast experience in aesthetic and reconstructive plastic surgery means that he is a great option for you. Read more about him here or schedule a consultation today!