Combining Plastic Surgery with Nonsurgical Procedures
It is possible to combine some plastic surgery procedures with nonsurgical procedures. Many of Dr. Katzen's patients choose to combine procedures because more can be done at once, and because they are already asleep, the additional procedure is painless.
If you are considering having plastic surgery, you may have a lengthy list of additional procedures you would like to have done. It helps to know what options are available to you.

BOTOX
BOTOX is a nonsurgical facial rejuvenation treatment that diminishes the signs of aging. It is popular among men and women to prevent wrinkles, skin folds, and lines from forming on the upper face and forehead.
As you age, your facial expressions contribute to the formation of wrinkles and fine lines. If you want a BOTOX procedure, Dr. Katzen will inject a purified strain of botulinum toxin (type A), which reduces the severity of lines and wrinkles while relaxing and softening the appearance of your skin. Typically, Dr. Katzen places the injection between the eyebrows, the crow's feet, and several other areas on the forehead, where needed.
Younger patients may be interested in BOTOX to prevent wrinkles and fine lines from forming. Patients with deeper lines may need an additional filler or a facelift. Every patient's case is different, and Dr. Katzen will discuss the correct procedure for you.
If you plan to have plastic surgery soon, talk with Dr. Katzen about receiving BOTOX injections simultaneously.

Morpheus8
Morpheus8 is a non-surgical and minimally-invasive skin tightening and resurfacing treatment. Morpheus8 stimulates collagen production, which results in tighter skin. This technology is relatively new, and patients that have undergone this procedure have been pleased with their results. Usually, Morpheus8 improves many of the facial and body issues patients have, including:
Reducing the appearance of surgical scars
Reducing the appearance of acne scars
Targeting stubborn fat in various areas of the body
Fading stretch marks
Morpheus8 uses microneedles to penetrate the skin from 0.5 to 8 millimeters. In addition, the Morpheus8 machine uses fractional radiofrequency energy, which tightens and contracts the skin for a smoother, more youthful appearance as you heal.
Many of Dr. Katzen's patients have opted for Morpheus8 when skin-tightening creams and other methods have not worked. Morpheus8 has proven effective for even the most hard-to-treat areas of the face and body.
Morpheus8 may be easy to incorporate into your upcoming plastic surgery procedure. Please talk with Dr. Katzen to learn more about this option.

PRP
PRP (platelet-rich plasma) therapy is a nonsurgical, cosmetic procedure that can give your skin a more youthful appearance. If you are concerned about thinning hair, PRP may be an option to consider as well.
PRP has produced dramatic results for many of our patients. PRP utilizes the patient's plasma to minimize facial wrinkles and fine lines by facilitating collagen production. In addition, when combined with bioactive proteins and growth factors, patients with concerns about hair loss or thinning hair may find that it stimulates new hair growth.
As a skin-tightening treatment, Dr. Katzen's staff will draw a vial of blood and process it in a centrifuge machine to separate the plasma. Once the plasma is prepared, Dr. Katzen injects it into the areas of the skin that need treatment.
For patients interested in PRP for hair loss or thinning hair, blood is drawn and plasma is prepared for injection. Dr. Katzen administers the plasma to the areas of the scalp that that hair growth.
On its own, PRP is performed as an outpatient procedure. However, Dr. Katzen can combine PRP with other plastic surgery procedures to minimize your downtime and pain levels. If this interests you, please talk with Dr. Katzen about your options.

Chemical Peel
Many of Dr. Katzen's patients choose to combine chemical peels with other plastic surgery procedures. A chemical peel is a cosmetic, noninvasive, medical-grade facial treatment that can produce more youthful, healthier skin that is bright and radiant. A chemical peel may work well if you have skin issues such as:
Fine lines
Wrinkles
Uneven patches
Hyperpigmentation
Scars
Medical-grade chemical peels target dead or damaged skin cells, causing the top layer of the skin to peel and flake off. As a result, the skin underneath will heal and repair itself naturally for a more youthful, clear complexion.
Dr. Katzen offers three chemical peel options: light peels, medium-depth peels, and deep peels. If you are considering a chemical peel, Dr. Katzen will discuss your options based on your needs.
Adding a chemical peel to your upcoming plastic surgery procedure will reduce your overall downtime during the healing process. If this interests you, please talk with Dr. Katzen to learn more.

Hair Transplant
Hair transplants have changed over the years. Most hair transplant procedures are done in the office under local anesthesia. However, why not consider having a pain-free hair transplant while you're having other procedures performed?
During your hair transplant procedure, individual hairs are taken from the back of the head and transplanted to areas that need more hair. For some men and women, this can be the top of the head, receding hairline, or other bald spots.
Having a hair transplant procedure under general anesthesia is painless. Often, hair transplants can be combined with liposuction, tummy tucks, mommy make-over, and buttock and breast procedures.
If your receding or even missing hair bothers you, please talk to Dr.Katzen about receiving a hair transplant during your other plastic surgery procedure.

What Plastic Surgery Procedures May be Combined with Nonsurgical Procedures?
Dr. Katzen frequently combines nonsurgical procedures with plastic surgery for his patients' convenience. Many plastic surgery procedures and nonsurgical treatments may be performed simultaneously.
Breast revision
Breast augmentation
Breast lift (Mastopexy)
Gynecomastia
Breast reduction
Silicone injection removal procedures
VASER liposuction
After weight loss surgery
Brazilian butt lift (BBL)
360 lower body lift
Thigh lift (Thighplasty)
Tummy tuck (Abdominoplasty)
Vaginoplasty
Labiaplasty
Neck lift (Platysmaplasty)
Facelift (Rhytidectomy)
client underwent a face lift, neck lift, lower blepharoplasty and tca chemical peel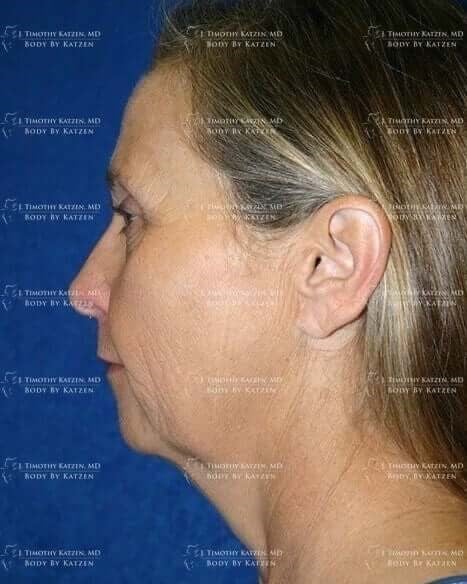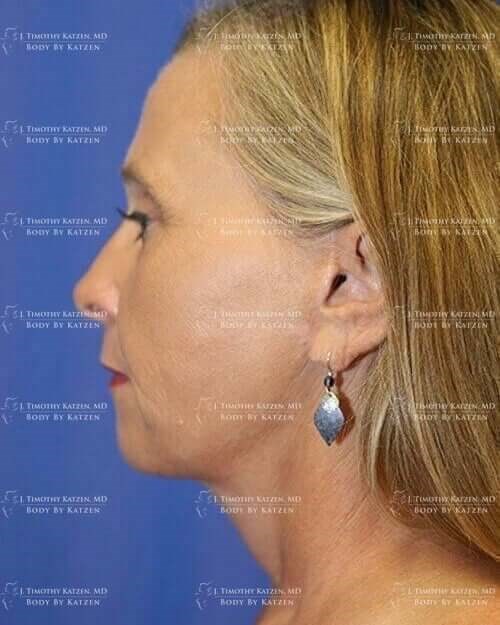 If having a nonsurgical treatment during your plastic surgery procedure interests you, please talk with Dr. Katzen and ask if you are a good candidate.
Contact Body by Katzen for Plastic Surgery and Nonsurgical Procedures
Dr. Katzen and his staff strive to provide patients with the best medical care. For many patients, combining plastic surgery with nonsurgical procedures simplifies their lives, reduces their downtime, and helps them reach their goals faster.
Dr. Katzen is currently scheduling consultations for plastic surgery procedures and nonsurgical treatments. In-person and virtual appointments via WhatsApp, Zoom, Skype, and FaceTime are available. Body by Katzen has offices in Beverly Hills, California, Las Vegas, Nevada, and Dubai UAE.
If you would like to schedule your consultation, please call us at (310) 859-7770.